U.S. Attorney General William Barr could attempt to influence the outcome of the 2020 presidential election, according to allegations made in an open letter from 1,612 former members of the Department of Justice.
Barr has claimed that this year's election results could be tallied incorrectly because of the prevalence of mail-in ballots. In September, Barr said that the mail-in ballots could be highly susceptible to fraud. Barr has also said that foreign entities, such as the Russian government, could forge ballots and send them in which could cause election results to be unfairly unbalanced.
In the letter, the DOJ alumni cited a fear that Barr "intends to use the DOJ's vast law enforcement powers to undermine our most fundamental democratic value: free and fair elections. He has signalled this intention in myriad ways, from making false statements about the security of mail-in voting from foreign hackers to falsely suggesting that mail-in ballots are subject to widespread fraud and coercion."
Newsweek reached out to the DOJ for comment.
Newsweek subscription offers >
Both Barr and Trump have condemned the practice of widespread mail-in voting. In a September interview with CNN, Barr said that the use of mail-in ballots was "reckless and dangerous."
Trump has attempted to delineate between mail-in voting and absentee voting, a process Trump himself claims to use.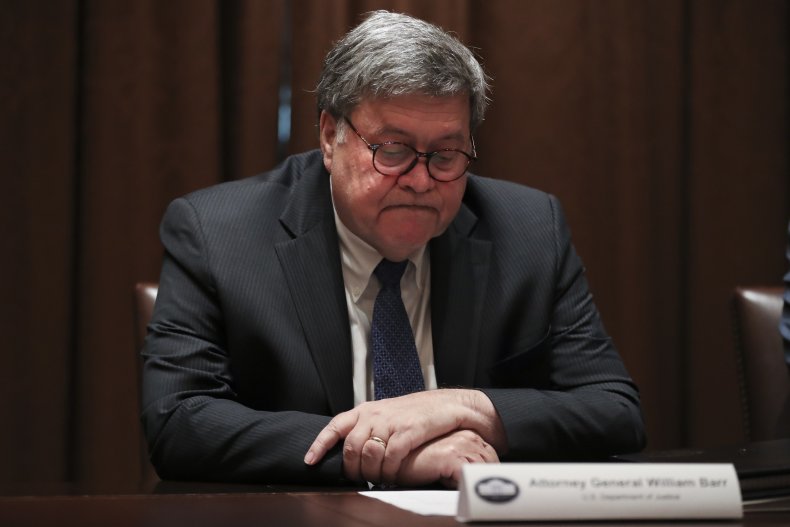 "I'm an absentee voter because I can't be in Florida because I'm in Washington," Trump said at a July press conference. "I'm at the White House, so I'll be an absentee voter. We have a lot of absentee voters, and it works."
Newsweek subscription offers >
According to Trump, mail-in ballots are different because they are sent to people who did not request them. Trump cited California as an example where "tens of millions" of ballots are expected to be sent out.
All registered voters in California are expected to receive mail-in ballots because of the threat of community spread coronavirus at polling places. However, if an individual chooses to vote in person, they must take their mail-in ballot with them as verification that they did not vote twice.
Barr has also expressed concerns in a September interview with CNN that states could receive ballots that have been counterfeited "either by someone here or someone overseas."
When asked by CNN anchor Wolf Blitzer if the DOJ had received any reports of such ballots, Barr said, "No. But most things can be counterfeited."
In response to Trump's social media posts about the dangers of mail-in voting, Twitter placed a fact-checking link on some of Trump's tweets. Upon clicking the link, Twitter users are taken to a page with the headline, "Voting by mail is legal and safe, experts and data confirm."
In a corporate blog post published in September, Twitter said it would either label or remove "false or misleading information intended to undermine public confidence in an election or other civic process," including any disputed claims involving "unverified information" concerning election rigging and ballot tampering.