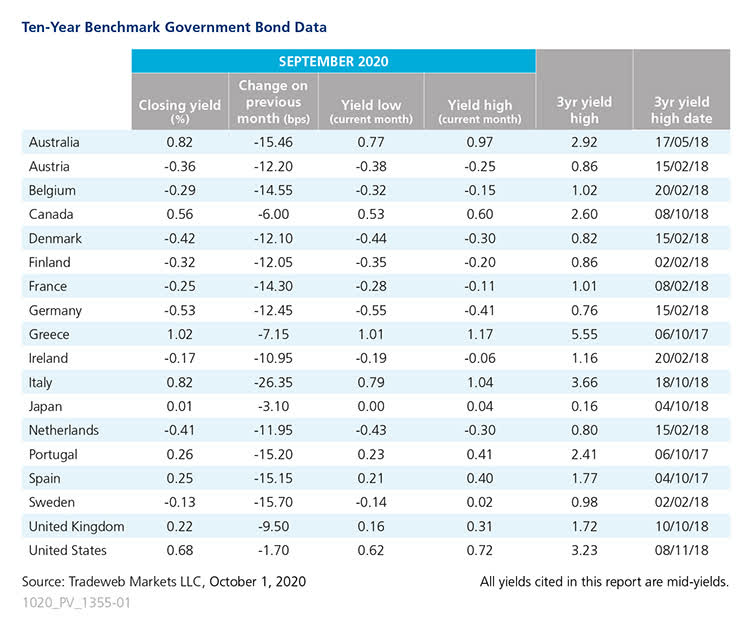 August's government debt sell-off proved to be short-lived. Amid a flurry of central bank and economic news, 10-year government bond yields fell in September, with some pushed further into negative territory.
Italy's 10-year bond mid-yield saw the largest decline, plunging 26 basis points to finish the month at 0.82%. Yields on Portugal and Spain's benchmark notes also posted significant drops, decreasing by 15 basis points to 0.26% and 0.25%, respectively. While Portuguese Finance Minister Joao Leao said the economy was recovering better than expected, the European Commission still predicts a GDP contraction of 9.8% this year. Similarly, Spain's GDP is expected to contract by 10.9% this year, however, the country's Economy Minister Nadia Calvino forecasted an expansion of more than 10% in the third quarter.
Meanwhile, the German 10-year Bund yield fell by nearly 12.5 basis points to close at -0.53%. Data from Germany's Federal Statistical Office showed that consumer
…
Read More
$1.6B USD in government savings bonds were successfully sold within a week of launch
BANGKOK, Thailand, Oct. 5, 2020 /PRNewswire/ — SIBOS — IBM (NYSE: IBM) today announced that Bank of Thailand (BOT), the central bank, has successfully launched the world's first blockchain-based platform for government savings bonds issuing a total of $1.6B USD within two weeks.
Leveraging blockchain technology on the highly secured IBM Cloud, the platform allows investors to benefit from speedy bond issuance, reducing a process that previously took 15 days to two days. The efficiency provided by blockchain also reduces operational complexity and the overall cost of issuing bonds.
According to The Thai Bond Market Association, the outstanding Thai bond market stood at $421B USD as of December 2019. Government bonds dominate the Thai market, with outstanding value of $157B USD in 2019 1, accounting for 37% of the
…
Read More
There are many advantages to having a bail bond system, and one of the most important is… it is our Constitutional right. It also reinforces the American justice system: innocent until proven guilty. Without a bail bond system our jails would be extremely overcrowded, it would cost more to house inmates, and many lives could be disrupted without a chance to be released from jail.
Federal and State laws regulate bail amounts and circumstances that could cause someone to be denied bail. The right to bail is not a guarantee. The number one priority and concern is safety when determining bail. Those individuals who may be a danger to society or their community, or possibly flight risks, or maybe even charged with a serious or violent crime, are often denied bail, or their bail is set so high that they are unable to make bail and get released.
Once someone … Read More