CLOSE

Supreme Court nominee Judge Amy Coney Barrett discussed Roe v. Wade at Jacksonville University's Public Policy Institute in 2016.
USA TODAY Handout
Amy Coney Barrett told a Jacksonville University audience in 2016 the Supreme Court is unlikely to overturn a woman's right to an abortion, the key holding of the landmark Roe v. Wade decision.
However, Barrett has written law review articles that outline arguments attorneys theoretically could use in trying to strike down that ruling and other precedents, though the writings are analyses that don't urge specific action or say how she would decide specific cases. Among them: She cited legal experts who do not count Roe v. Wade among so-called "super precedents" — Supreme Court decisions that are so ingrained in American life that they can't be overturned.
The potential for Barrett to join a 6-3 conservative majority that could erase the controversial, nearly 50-year-old ruling is
…
Read More
Democratic presidential nominee Joe Biden fielded questions from voters at an NBC News town hall event in Miami on Monday night, and in his answers he urged people to wear masks, said President Trump was partly to blame for contracting COVID-19, and suggested he shouldn't have called him a "clown" during last week's debate.
After a voter asked Biden about Trump's "bullying" interruptions at the debate, moderator Lester Holt noted "it was an ugly debate, and it hit some lows — you called him a 'clown,' a 'fool,' you told him to 'shut up.' It seemed to go against some of the language you've said about, you know, not being divisive. Do you regret any part on your part?"
Biden said as Trump kept lobbing "invectives" and personal gibes at him, he tried hard "to figure out how I could possibly have him respect the debate, respect the evening." And
…
Read More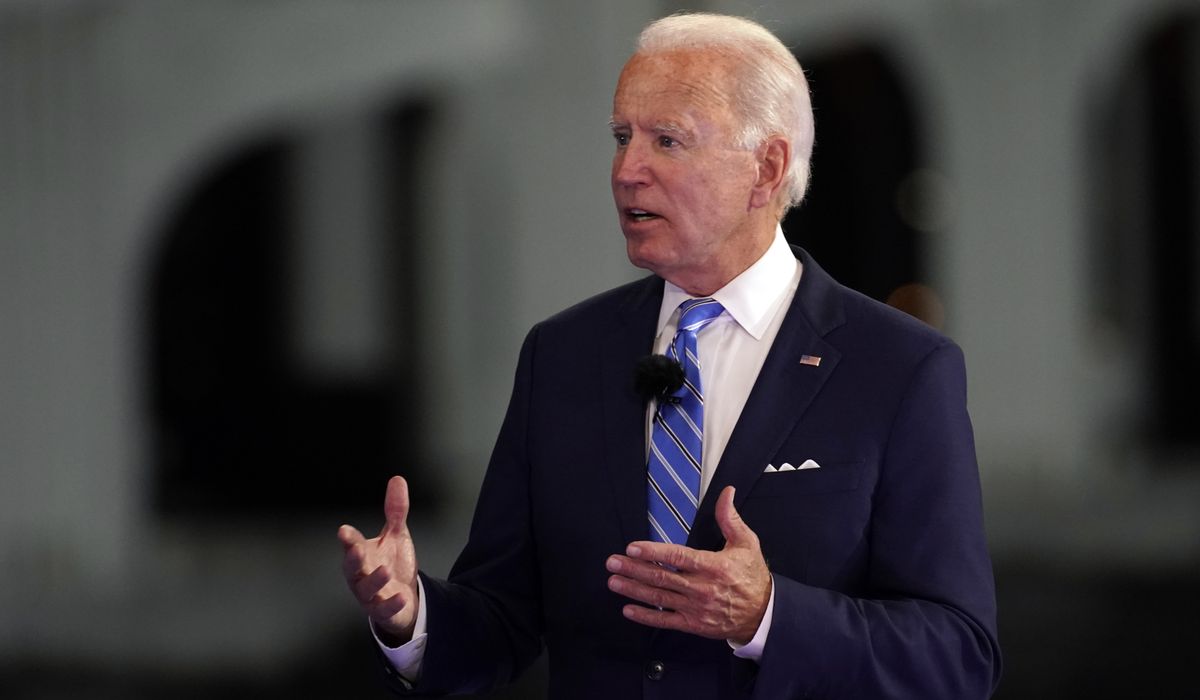 Democratic presidential nominee Joseph R. Biden said Monday he would work to pass legislation codifying the right to obtain an abortion if the Supreme Court takes action to undermine Roe v. Wade, the 1973 high court ruling that recognized abortion rights.
At a Miami, Florida town hall held by NBC, a female participant asked Mr. Biden how he would respond if the Supreme Court struck down Roe v. Wade because she was fearful of President Trump appointing Judge Amy Coney Barrett to the high court.
"Considering the new Supreme Court nomination of [Judge] Amy Coney Barrett, what are your plans to protect women's reproductive rights in the U.S.?" the female questioner asked.
"Number one, we don't know exactly what she will do, although the expectation is that she may very well move to over, overview, overrule Roe," Mr. Biden answered. "The only responsible response to that would be to pass
…
Read More
Former Vice President Joe Biden has said he'll move to protect abortion rights if the Supreme Court strikes down Roe v. Wade, the historic decision that protected a woman's right to have an abortion.


© Chip Somodevilla/Getty Images
Wearing a face mask to reduce the risk posed by the coronavirus, Democratic presidential nominee Joe Biden waves to journalists as he enters The Queen performance venue October 03, 2020 in Wilmington, Delaware. Biden is participating in a live video 'town hall' campaign event. Biden has said he will preserve abortion rights.


The Democratic presidential nominee told an NBC News town hall in Miami on Monday that if the historic ruling on abortion is overturned, his "only response to that is pass legislation making Roe the law of the land. That's what I would do."
…
Read More
New Jersey Gov. Phil Murphy (D) on Friday will unveil legislation aimed at codifying the Roe v. Wade decision legalizing abortion into state law. 
Murphy told NPR in an interview on Thursday that the decision to put the legislation together with other state officials and reproductive rights advocates was influenced by President Trump
Donald John TrumpPresident Trump, Melania Trump test positive for COVID-19 Trump, first lady to quarantine after top aide tests positive for coronavirus Secret recordings show Melania Trump was frustrated about criticism of Trump 2018 border separation policy: CNN MORE's Supreme Court nomination of conservative Judge Amy Coney Barrett, whom many anti-abortion GOP members hope will help bring an overturn of Roe v. Wade. 
"I hope to God that doesn't happen, but we don't want to take a chance that it could happen," Murphy told NPR.
In addition to securing the right to abortion under New Jersey
…
Read More
Barrett, who met with 11 Republican senators at the Capitol on Thursday, likely will face questions at her confirmation hearings later this month about whether her personal beliefs will influence her legal rulings.
The White House, while not commenting directly on the ad, said Thursday that the president would never ask a judge to prejudge a case. Trump, who tapped Barrett last Saturday to replace Ginsburg, is pressing the Senate to confirm the nominee before the Nov. 3 presidential election.
Barrett was a law professor at the University of Notre Dame in South Bend, Ind., when she attached her name to the ad placed by the St. Joseph County Right to Life group, of which Barrett and her husband, both Catholic, were members.
"We, the following citizens of Michiana, oppose abortion on demand and defend the right to life from fertilization to the end of natural life," read the ad
…
Read More
Go to top