Thanksgiving for the Clarkson and Blackstock family may be awkward this year.
Kelly Clarkson is being sued by her management company, which is owned by her estranged husband Brandon's father, Narvel Blackstock. Brandon is also listed as part of the company's executive team.
According to Entertainment Tonight, Starstruck Management Group claims they are owed more than $1.4 million in unpaid commissions from The Voice judge. The lawsuit also claimed that Clarkson breached an oral contract, and seeks "declaratory relief and an accounting."
"Over the course of approximately 13 years, Starstruck developed Clarkson into a mega superstar," the complaint, via Entertainment Tonight, states. "By way of example only, Starstruck was instrumental in helping Clarkson achieve success in terms of numerous hit albums, multiple GRAMMY wins and nominations, her role on popular television shows like The Voice and her own talk show."
Newsweek subscription offers >
"Despite Starstruck's hard work and dedication, Clarkson has decided she is going to stop paying Starstruck for what is contractually owed," the suit added.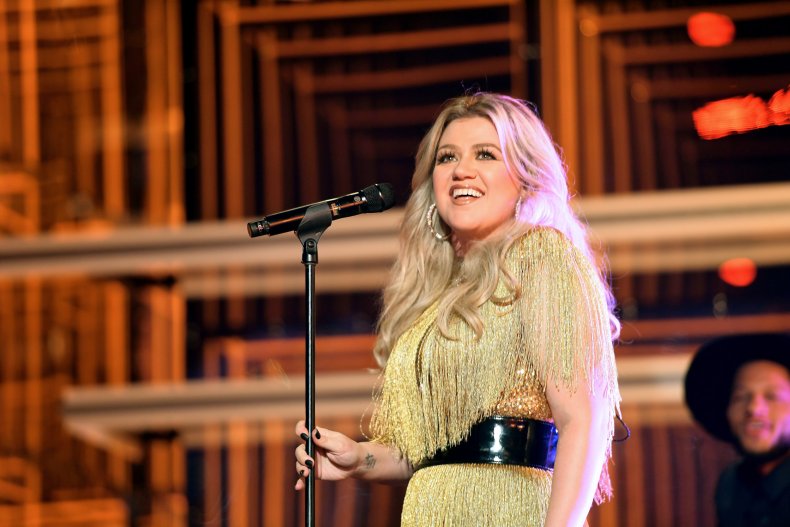 Clarkson has been represented by Starstruck since 2007, and they received a 15 percent commission of her earnings. Additionally, the suit calculated that the singer could owe Starstruck and Blackstock over $5 million of Clarkson's commission by the end of the year, coming from her talk show The Kelly Clarkson Show, The Voice gig, and her deal with Wayfair.
There is no written agreement regarding these terms, meaning everything was verbally negotiated. The lawsuit alleges that they were negotiated by her attorney and business manager, and Clarkson did speak with Narvel.
Newsweek subscription offers >
Newsweek did not receive comment from Kelly Clarkson regarding the lawsuit at the time of publication.
This sticky situation comes at an odd time, since Clarkson filed for divorce from Blackstock in June 2020. She asked for joint legal and physical custody of their daughter, River and son, Remington. Clarkson and Blackstock met in 2006 and got married in October 2013.
During an interview with the Los Angeles Times earlier this month, Clarkson admitted that the divorce could be difficult with her kids part of the equation, and she doesn't want to share much with the public just yet.
"I am a very open person, but I'm not going to be able to be truly open about this in certain aspects because there's kids involved," she said at the time. "I think that I will navigate a way in which to be open and honest about it eventually, probably via [The Kelly Clarkson Show], and it'll probably, I'm assuming, happen organically when someone says something in conversation or something. It definitely wouldn't be planned."