The party continues on Sunday with the couple hosting a post-wedding washup aboard Sydney superyacht Quantum.
However, more than a few noses are out of joint after the couple imposed a strict technology ban forbidding the use of phones and the taking of photos.
Emerald City is told some guests have taken drastic measures to ensure they're able to capture happy snaps at the event by hiring a personal photographer to follow them around.
Efron's squeeze keeps a low-profile online
She's the talk of Australia and the envy of every noughties tween after capturing the heart of Hollywood heart-throb, Zac Efron, during his COVID sojourn Down Under.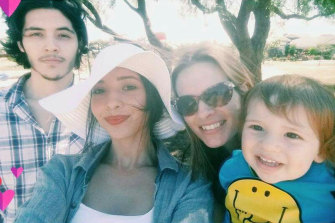 While little is known about model-cum-waitress Vanessa Valladares, the Australian public can't seem to get enough of her fairytale romance after meeting Efron at Byron Bay's General Store cafe in June.
Despite jetting across the state for trips to Sydney, Thredbo and Byron Bay, the pair are doing their best to fly under the radar. Vanessa, 25, who originally hails from Werribee on the outskirts of Melbourne, has managed to keep her "regular" Aussie family out of the public eye, including her twin brother Jayden.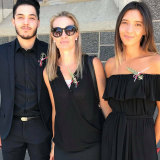 Media-shy Jayden opted to steer clear of his sister's newfound fame, deleting all forms of social media prior to her relationship becoming public. However, mum and family matriarch Diana Valladares isn't shy when it comes to sharing her life on social media, with a stream of commentary from her job at Coles, updates from her last pregnancy and photos of her daughters' modelling achievements.
But Vanessa's high-profile relationship with Efron is yet to make an appearance on her mum's active social media feed. It is not clear if the Valladares clan have been introduced to the Hollywood star; there has been less opportunity because of the COVID-19 lockdown in Victoria.
Along with her twin Jayden, Vanessa also has a seven-year-old half brother named Tyson who she has shared images of on her private Facebook page.
Last week Emerald City reported Efron and Valladares dined at Sydney's Catalina restaurant on their jaunt to Sydney. But the pair may have to put their romance on hold, as Efron is due back in the United States in coming months to film the Disney+ remake of Three Men and a Baby.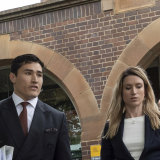 Sydney socialite caught up in court crossfire
Locals in the usually quaint southern highlands town of Moss Vale were curious when a large media contingent descended on their village last week. Media crews and photographers spilled onto the street outside Moss Vale Local Court as solicitor to the stars Bryan Wrench fronted court to fight claims of charges of assault and intimidation between his client Sam Burgess and father-in-law Mitch Hooke.
As traffic piled up with rubber-neckers, eastern suburbs socialite Emma Steel was caught up in the media malaise. No stranger to legal proceedings herself, Steel giggled with the waiting media, who had been chasing her not so long ago.
A source said the brunette bombshell was in good spirits as she pulled up in her Range Rover and seemed to sympathise with the all-too-familiar situation.
In March, the 41-year-old had her private life laid bare after a bitter dispute with neurosurgeon husband Tim Steel. Emma's application for an apprehended violence order was dropped in July when her husband was found not guilty of assaulting his wife.
No fear, Tim's here
Victorian Liberal MP Tim Wilson was spotted at none other than Potts Point's famed Apollo restaurant on Friday night, where he made a brief pit-stop to visit friends.
The MP has been in Canberra for weeks so is free to travel to Sydney without going into hotel quarantine. Clearly, he was not put off by the Apollo's recent run-in with COVID-19.
Lucy Manly is a reporter and gossip columnist for The Sydney Morning Herald and Sun-Herald.