America's dairy farmers could face another price hit this year as a slowdown in government purchases combines with reduced demand from schools.
Dairy products have gotten a boost from the U.S. Department of Agriculture's Farmers to Families Food Box program, which includes plans to buy as much as $4 billion worth of food to distribute to those in need. The government purchases have helped to send milk prices on a tear recently. But the program is slated to wind down, and concerns are rising over whether that rally will be sustainable.
Milk markets have already had a roller-coaster year. When coronavirus lockdowns went into place, dairy markets were among the hardest hit in the food world. It turns out, consumers eat a lot more cheese and butter when they're dining out than they do at home. As restaurants shuttered, farmers were left with an overwhelming glut. Millions of pounds of milk got dumped.
But then governments stepped in and helped to rescue prices. In addition to the U.S. food program and a dairy bailout, the European Union and Australia also earmarked funds for the industry. That sent milk futures in Chicago soaring after touching a decade low in April.
Now, it looks like things could reverse again.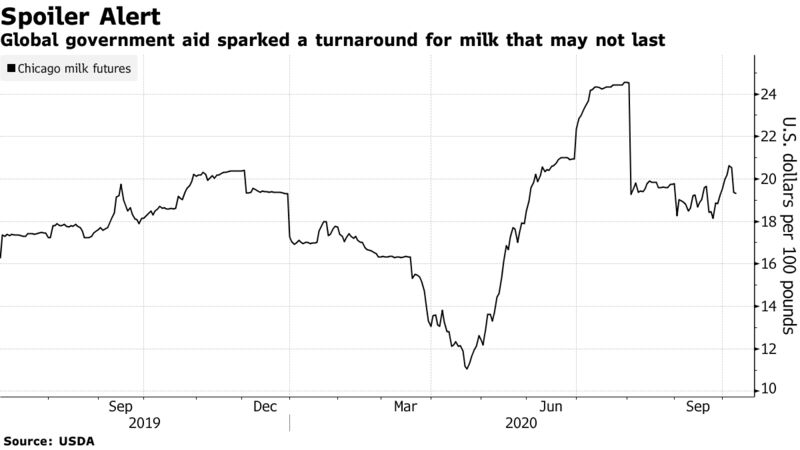 U.S. government dairy purchases are set to dwindle by year's end, dropping to 7.9 million pounds by December from 505.7 million pounds in September, according to StoneX Group Inc. estimates. That decline would remove a year's worth of growth from the industry.
"The concern moving forward is as these government purchases slow — it looks like they're going to slow dramatically after the election —commercial demand is going to be down," said Nate Donnay, director of dairy market insight at StoneX. "Prices are going to fall again to try to slow down overall milk production and get it lined up with where real commercial demand is."
At the same time, schools have gone virtual at least part of the time in many places. That means a lot fewer milk cartons are being gulped down in cafeterias. The same goes for fewer pieces of lunchtime pizza, grilled cheese sandwiches and other typical meals. Demand from schools typically represents about 6% of the market.
Declining fluid milk demand is the biggest impact from students not completely returning to school, which is bearish for the industry, said Alyssa Badger, director of global operations at HighGround Dairy in Chicago.
—Justina Vasquez in New York
Charted Territory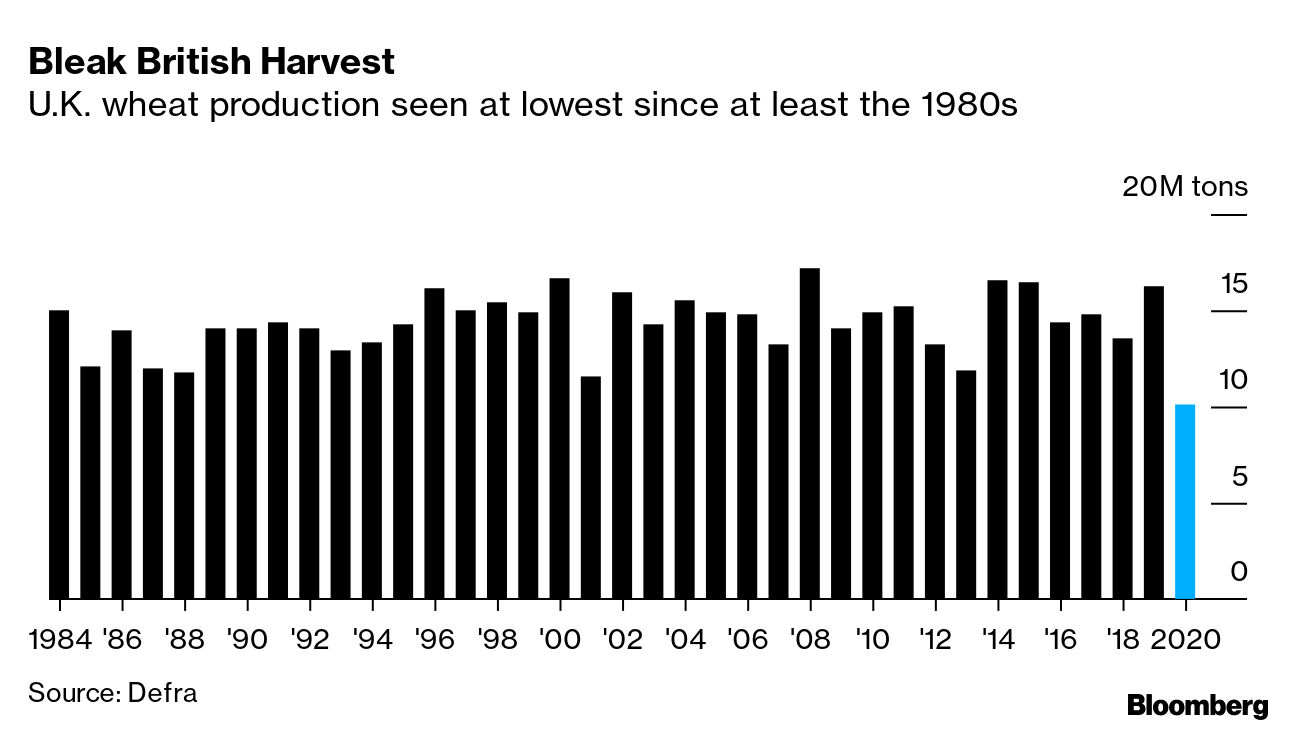 The U.K. is reaping its smallest wheat crop in at least three decades, increasing reliance on imports just months before Brexit threatens to raise costs or disrupt flows into the country. British farmers were pummeled by a season of weather extremes, as record winter downpours cut plantings before spring dry spells then hurt young crops. That means the wheat harvest will probably slump 38% to 10.1 million tons, the smallest in data going back to 1984, the government estimates.
Today's Must Reads
That's a winner | The World Food Programme was awarded the 2020 Nobel Peace Prize as the fight against hunger takes on greater urgency in a world shaped by conflict and the coronavirus pandemic.
Cafe crash | Starbucks and other coffee chains are expanding their grip on America's coffee culture as independent cafes struggle to survive a pandemic-fueled industry shakeup.
Pollinator problems | France moved a step closer to partially lifting a ban on insecticides blamed for killing bees, highlighting the difficulties in balancing environmental concerns with helping struggling farmers.
Left behind | Even as the rest of the grocery industry prospers with more Americans cooking their own meals amid the pandemic, foot traffic at Amazon's Whole Foods Market fell an estimated 25% in September over the previous year.
Pricier foods | U.S. Agriculture Secretary Sonny Perdue warned that the EU's "Farm to Fork" environmental initiative will stoke trade tensions as European producers face higher costs and seek protectionist measures.
Festive-food boost | Palm-oil purchases by India, the biggest importer, are likely to climb in October from a three-month low as the Hindu festival of lights drives up demand for the world's most-consumed vegetable oil.
Grain hoard | Jordan has become the latest Middle Eastern country to strengthen food security as the coronavirus pandemic upends supply chains and causes soft commodity prices to rise.
Bug backers | Venture capital investors are pouring money into Ynsect, a French startup that will breed mealworms to feed fish and pets.
(Correction: Yesterday's Supply Lines incorrectly referred to Ethiopia and Somalia as WTO members. Both countries are in the process of joining the WTO.) 
On the Bloomberg Terminal
Beef boom | Changing consumer tastes in developed and emerging markets may sustain growth in the global beef industry over the next decade, according to Bloomberg Intelligence.
Cheap chocolate | A cocoa-price return to $3,000 levels may not happen in the next 12 months, despite political unrest in Ivory Coast, as another surplus is expected in the 2020-21 season backed by a gradual demand recovery from Covid-19, Bloomberg Intelligence writes.
Use the AHOY function to track global commodities trade flows.
Click HERE for automated stories about supply chains.
See BNEF for BloombergNEF's analysis of clean energy, advanced transport, digital industry, innovative materials, and commodities.
Click VRUS on the terminal for news and data on the coronavirus and here for maps and charts.
Like Supply Lines?
Don't keep it to yourself. Colleagues and friends can sign up here. We also publish Balance of Power, a daily briefing on the latest in global politics.
For even more: Follow @economics on Twitter and subscribe to Bloomberg All Access for full global news coverage and two in-depth daily newsletters, The Bloomberg Open and The Bloomberg Close.
How are we doing? We want to hear what you think about this newsletter. Let our trade tsar know.
— With assistance by Brendan Murray