(Bloomberg) — Kyrgyz President Sooronbay Jeenbekov declared martial law in the capital, Bishkek, Friday in an attempt to curtail the political chaos that has rocked the country since disputed parliamentary elections.
A curfew from 8 p.m. to 8 a.m. will be in place until the state of emergency ends on Oct. 21, according to an order from the presidential administration. The head of Kyrgyzstan's Interior Ministry was appointed the city's commandant.
The move was an attempt to reassert Jeenbekov's authority after demonstrators protesting the results of Sunday's election overran the parliament building and released a former president from jail. Parties close to Jeenbekov had dominated the disputed vote.
Street protests were continuing Friday, according to videos posted by local news website 24.kg.
Earlier Friday, Jeenbekov dissolved the government and fired the head of the military and the chairman of the security council in a series of executive orders.
In
…
Read More
Fighting has broken out between Armenia and Azerbaijan, and the Armenian government has declared martial law and total military mobilization.
Martial law and General mobilization will be declared in #Armenia. @NikolPashinyan: I call on the personnel attached to the troops to report to their territorial military recruitment offices. For the sake of the homeland, for the sake of victory

— Government of Armenia (@armgov) September 27, 2020
The neighboring nations, both former Soviet republics, have been mired in a decades-long standoff over the contested Nagorno—Karabakh region, which is internationally recognized as part of Azerbaijan, but has a majority ethnic Armenian population that has been running its own affairs since Azerbaijani forces were pushed out during a war in the 1990s. A ceasefire was brokered in 1994, but there have been flare-ups since, and Sunday's escalation appears to be the worst since 2016, Al Jazeera reports.
Both sides have
…
Read More
Azerbaijanis those who demand mobilizaiton gather in front of the National Assembly in Baku to protest attacks of Armenian armed forces on Azerbaijani troops and occupation of Nagorno-Karabakh, Azerbaijan on July 15, 2020.
Photo by Sahin Serdarov | Anadolu Agency via Getty Images
Azerbaijan's army said on Sunday there was no need for total military mobilization due to a flare up in tensions with Armenia over the breakaway Nagorno-Karabakh region, since its army is fully staffed.
Earlier on Sunday, both Armenia and Nagorno-Karabakh declared martial law and military mobilization due to clashes with Azerbaijan.
France calls for end to hostilities
France called on Yerevan and Baku to end hostilities and immediately restart dialogue after Armenia declared martial law and mobilized its male population on Sunday following clashes with Azerbaijan over the breakaway Nagorno-Karabakh region.
"France is extremely concerned by the confrontation," foreign ministry spokeswoman Agnes bon der Muhll said in
…
Read More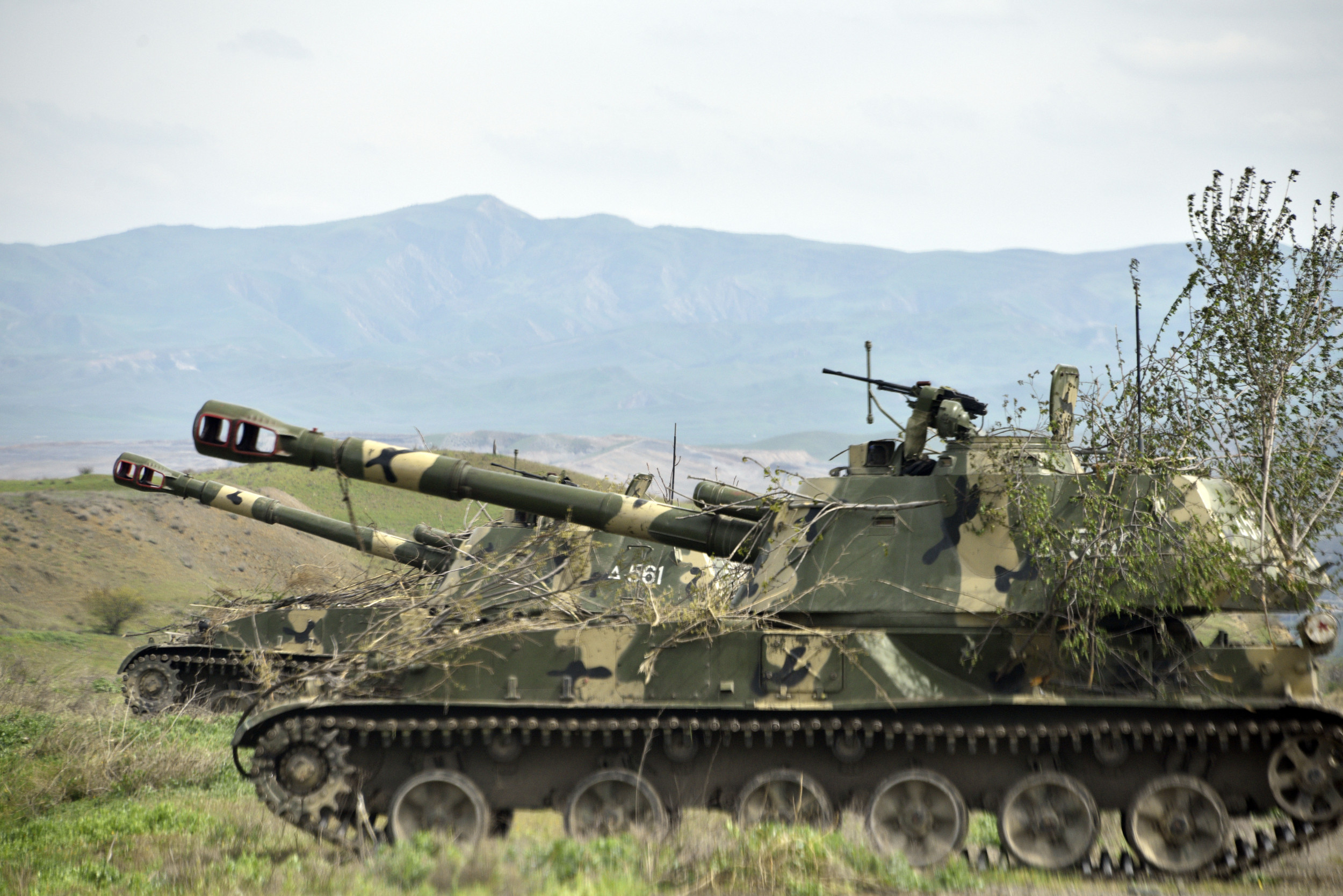 Armenia has declared martial law and total military mobilization following reignited clashes with Azerbaijani forces over the disputed Nagorno–Karabakh region. Armenia has accused neighboring Azerbaijan of carrying out air and artillery attacks on Nagorno-Karabakh, a disputed territory recognized as part of Azerbaijan but controlled by ethnic Armenians.
The area in south-eastern Europe has been the subject of conflict for decades between the two countries, which were both part of the Soviet Union until the bloc's collapse in 1991.
Armenia's Defense Ministry said it downed two Azerbaijani helicopters, with Azerbaijan accusing Armenia's army of attacking civilians and warning that Armenia is "preparing for a new act of aggression and war."
On Sunday, Armenian Prime Minister Nikol Pashinyan confirmed that martial law has been declared in the country and urged those in the Nagorno–Karabakh region to seek refuge in shelters, Reuters reported.
Newsweek subscription offers >
"I urge
…
Read More