GUYSBOROUGH – "Anyone that knows me, I think, would be proud of how I defended myself," Adam Rodgers told The Journal about a recent hearing of the Nova Scotia Barristers Society (NSBS). The hearing involved allegations of professional misconduct made against Rodgers related to activities at the Boudrot Rodgers Law firm in 2018.
In October of 2018, Jason Boudrot, managing partner of the Port Hawkesbury law firm Boudrot Rodgers, contacted the NSBS to report that he had "some issues with his trust accounts," as stated in a NSBS hearing committee document in September 2019. That statement unlocked an avalanche of information and a settlement agreement between NSBS and Boudrot that saw the lawyer disbarred in 2019.
On August 18, 2020 the NSBS announced it would, "hold a hearing, at a date and time to be determined, respecting charges against Adam Rodgers, a member of the Society." The hearing was held
…
Read More
During his questioning at this morning's round of Judge Amy Coney Barrett's confirmation hearing, Senate Judiciary Committee chairman Lindsey Graham asked the judge how it feels to be nominated for the Supreme Court.
Barrett's reply was thoughtful and very humanizing. Here's what she said:
I've tried to be on a media blackout for the sake of my mental health but you can't keep yourself walled off from everything. I'm aware of a lot of caricatures that are floating around. I think what I would like to say in response to that question is, look, I've made distinct choices. I've decided to pursue a career and have a large family. I have a multiracial family. Our faith is important to us. All of those things are true, but they are my choices. In my personal interactions with people, I mean, I have a life brimming with people who've made different choices,
…
Read More
Feinstein and Democrats are expected to focus on healthcare during the hearings. Feinstein still faces criticism for her comments during Barrett's 2017 confirmation hearing to be a federal judge. Feinstein had joined Republicans on the panel in asking Barrett about her Roman Catholic faith, but then went further by telling Barrett, then a Notre Dame law professor, that "when you read your speeches, the conclusion one draws is that the dogma lives loudly within you.″
Republicans are pushing to confirm Barrett before Election Day.
Senate Judiciary Chairman Lindsey Graham says Judge Amy Coney Barrett is in a "category of excellence" as a law professor and legal scholar.
Graham, R-S.C., praised Barrett as he opened Supreme Court confirmation hearing before the Republican-led panel. Barring a dramatic development, Republicans appear to have the votes to confirm the 48-year-old conservative appellate judge to a lifetime seat on the Supreme Court.
…
Read More
Senate Judiciary Chairman Lindsey Graham (R-S.C.) warned of a "long, contentious week" of confirmation hearings for Judge Amy Coney Barrett to the Supreme Court, but pledged to try to deliver a fair process as Republicans aim to sprint President Trump's nominee to the court by election day.
"This is probably not about persuading each other unless something really dramatic happens," Graham said, addressing the senators in the hearing room and those watching remotely. "All the Republicans will vote yes and all the Democrats will vote no," he predicted.
Graham defended Republicans' decision to move the nomination so close to the November election following the death of Justice Ruth Bader Ginsburg. Graham previously promised twice that he would not fill a Supreme Court vacancy if it occurred in
…
Read More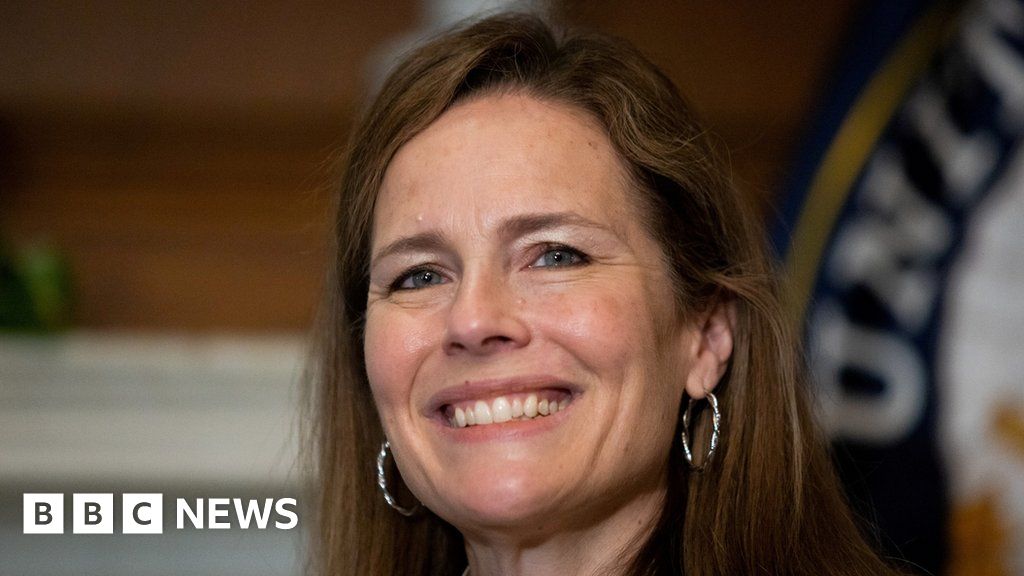 Amy Coney Barrett, US President Donald Trump's Supreme Court nominee, is going before the Senate Judiciary Committee for what could be a fiery confirmation hearing over the next four days.
The 48-year-old conservative jurist has vowed to judge legal cases impartially.
Judge Barrett's nomination so close to the 3 November presidential election has sparked a political row between the Republicans and rival Democrats.
Judge Barrett's approval would cement a conservative majority on the top court.
Conservative-leaning justices would then hold a 6-3 majority, shifting its ideological balance for potentially decades to come.
President Trump picked Judge Barrett to replace liberal Justice Ruth Bader Ginsburg, who died last month aged 87.
The Republicans – who currently hold a slim majority in the US Senate, the body that appoints Supreme Court judges –
…
Read More
WASHINGTON (Reuters) – U.S. Supreme Court nominee Amy Coney Barrett will tell senators in her high-stakes confirmation hearing this week that she will approach cases based on the law, not her personal views, as Democrats urged her to step aside on an upcoming challenge to the Obamacare law and any potential election-related disputes.
A four-day Senate Judiciary Committee confirmation hearing for the conservative appellate court judge is set to begin on Monday, a key step before a final full Senate vote by the end of October on her nomination for a lifetime job on the court.
In a copy of her prepared remarks released on Sunday, Barrett said that as a judge she seeks to "reach the result required by the law, whatever my own preferences might be."
Barrett, 48, said in the statement that it will be an "honor of a lifetime" to serve alongside the current eight justices
…
Read More
In the last of seven hearings to investigate concerns that Google parent Alphabet (GOOG, GOOGL), Facebook (FB), Amazon (AMZN) and Apple (AAPL) are operating as illegal monopolies, witnesses before the House Antitrust Subcommittee Thursday clashed on whether Congress should overhaul U.S. antitrust law.
Proposals from witnesses before the committee, including several antitrust experts, could be a clue to changes forthcoming from the committee. They ranged from introducing legislation that would break up Big Tech companies and overturn judicial precedent to increased funding for antitrust law enforcers to maintaining status quo. 
'Quintessentially a congressional job'
Zephyr Teachout, associate professor of law at Fordham University School of Law, told the subcommittee on Thursday that Congress, not the Supreme Court, should regulate Big Tech. "It is quintessentially a congressional job to respond to this threat," Teachout said, calling for "significant" new legislation.
…
Read More
Go to top