Google critics and rivals have long warned the search engine is threatening countless industries from shopping to travel by consistently pointing people to its own products and services on the biggest search platform on the Web. And those competing against Google to win over consumers say that the search engine forces them to pay their biggest rival in advertising dollars just to show up.
Google's dominance in search has drawn more regulatory scrutiny and criticism from rivals and lawmakers in recent months, something that is expected to culminate in the Department of Justice filing an antitrust suit against the company in the coming weeks. Lawmakers are also preparing new legislation to rein in tech's power, following the publication last week of a congressional investigation that found Google engaged in anticompetitive tactics.
The case by the Justice Department would be its biggest swing yet to rein in the power of tech
…
Read More
Today at New York Comic Con, the stars of DC's Stargirl joined creator/executive producer Geoff Johns to recap Season 1 and tease what's to come in Season 2.
During the virtual panel with actors Brec Bassinger, Yvette Monreal, Anjelika Washington, Cameron Gellman and Meg DeLacy, Johns said that we can expect "a lot of bad guys, and a lot of bad things happening" in the series' second run. "Everyone's got a great journey ahead in Stargirl Season 2," he added. "We broke the season a long time ago, but [we've now] broken the season even deeper."
One of the main antagonists set to clash with Stargirl's Justice Society of America in Season 2 is Eclipso, a life essence trapped inside a blue diamond. Once owned by the Injustice Society of America, that diamond was stolen in Season 1 by DeLacy's Cindy, which will result in problems for the JSA going
…
Read More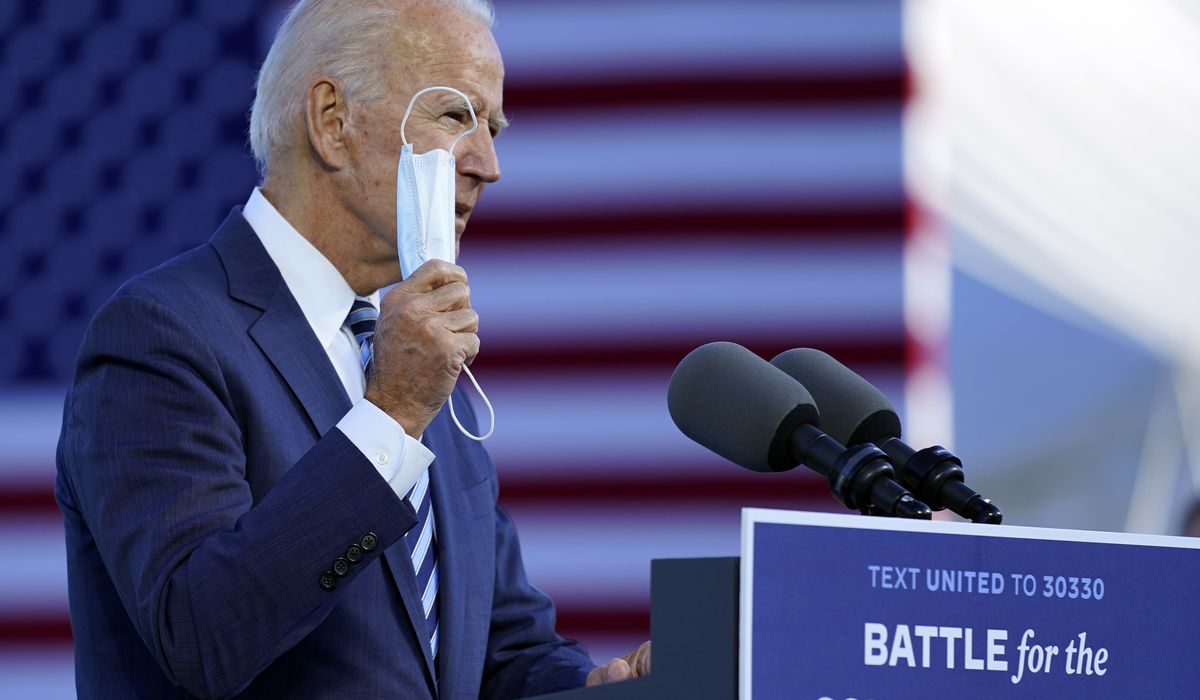 Democratic presidential nominee Joe Biden aimed to walk fine line between calling for racial justice and enforcing law and order in the nation Tuesday.
After months of protests and rioting across the country, Mr. Biden pushed back at criticism he was soft in his support for law enforcement, arguing that it was a false choice.
"The country has been riled by incidents of excessive police force, heartbreaking cases of racial injustice, and lives needlessly and senselessly lost. By peaceful protesters giving voice to calls for justice. By examples of violence and looting and burning that cannot be tolerated," he said in a speech delivered in Gettysburg, Pennsylvania.
"I believe in law and order. I've never supported the defunding the police but I also believe that justice is real," he added. "I cannot believe we have to choose between law and order racial justice in America. We can have both. This
…
Read More
WASHINGTON (AP) — The Latest on the 2020 presidential election (all times local):
5:40 p.m.
…
Read More
Cassia Herron and Aja Holston-Barber, Opinion contributors
Published 6:29 a.m. ET Oct. 2, 2020 | Updated 6:30 a.m. ET Oct. 2, 2020
Breonna Taylor should still be alive today. 
The people and institutions that killed her are incapable of giving us justice. Black women deserve better than what Louisville has given us. Everyone who lives in Louisville deserves better than what can be given from systems more focused on maintaining unjust power than meeting our needs. 
The only remaining role for this failed leadership is to practice accountability. This means it is our collective responsibility to ensure they are held responsible and no longer in charge of making community-wide decisions.
Mayor Greg Fischer, Louisville Metro Police Department, Metro Council. These people and systems have not been proactively transparent nor action-oriented in practicing accountability for Breonna's murder. They did not support Tamika Palmer as she grieved and waited hours for answers
…
Read More
BRASILIA (Reuters) – Brazilian Supreme Court justice Rosa Weber has demanded Environment Minister Ricardo Salles explain a decision earlier in the week, which sought to weaken laws around coastal woodlands.
Weber's request, dated 30 Sept., gave Salles 48 hours to provide information surrounding the decision, citing the "urgency" of the issue.
On Monday, Brazil's National Environmental Council (Conama) revoked protections for mangroves and a type of coastal forest known as restinga that grows on splits of seaside land.
Conama's decision was later suspended by a federal judge who cited the risk to the environment that it posed.
Salles has argued that these forest types are already protected by a separate piece of Brazilian legislation, known as the Forest Code. However, there are some crucial differences between the Conama's protections and
…
Read More
California Gov. Gavin Newsom signed a law that moves the Golden State one step closer to paying reparations to black Californians.
Assembly Bill 3121 calls for the creation of a 9-member task force that will make recommendations on whether compensation should be paid, the type of compensation that should be paid out, and who is eligible to receive compensation from the state.
The committee will also be charged with examining the effects slavery still has on the United States and recommending how California can make a formal apology "for the perpetration of gross human rights violations and crimes against humanity on African slaves and their descendants."
California was admitted into the Union in 1850. In 1852, the state legislature instituted the Fugitive Slave Law, which decreed any enslaved person who had entered California before it became a state were not legally considered "free."
"California has come to terms with
…
Read More
While many today have focused on the danger of a new US Supreme Court dominated 6–3 by conservatives, we must also recognize that the current state of leadership in the US attorney general's office has helped create the problematic context wherein that court shift may occur.
"The most sacred of the duties of government [is] to do equal and impartial justice to all its citizens." So wrote Thomas Jefferson, and the US Department of Justice (DOJ) has adopted this as its guiding principle, putting it front-and-center on its website. And, indeed, although the US attorney general serves at the pleasure of the president, the office is intended to function relatively non-ideologically to ensure constitutional rights and laws are applied fairly to all.
But at times this is an awkward balance, because the office is appointed by the president and ratified by the Senate.
…
Read More
Go to top