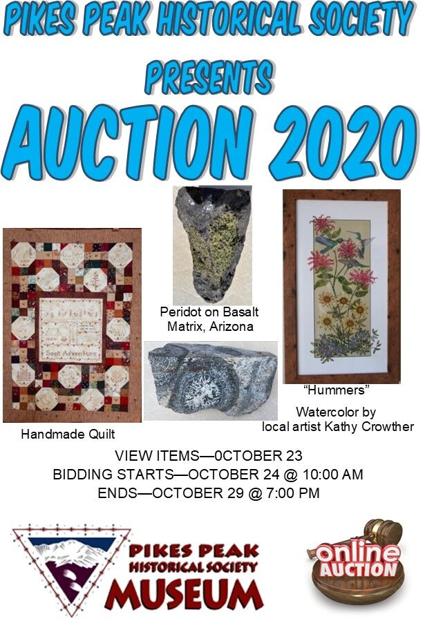 Each fall, the Pikes Peak Historical Society holds an auction as its major fundraising event of the year. This year, due to Covid restrictions, the auction is being conducted online. The auction will go live on the PPHS website, pikespeakhsmuseum.org, just look for the auction icon that will take you to the auction site. Once there, everything is self-explanatory.
"We are looking for services, gift certificates, trips, guided tours, handmade quilts, craft items, artwork, and cash donations are always welcome," said Kathy Perry, an event organizer.
Incorporated in 1988, PPHS is among the largest nonprofits in Teller County, with almost 500 members. Over 99% of the annual revenue is applied toward the museums and various programs.
PPHS owns and operates two museums: The Pikes Peak Historical Society Museum, at 18033 Teller County Road 1 across from the Florissant Post Office; and the Schoolhouse Museum located at Teller County Road 31
…
Read More
Video: "Baker: Government is 'undermining the rule of law' by not consulting MPs" (Evening Standard)
UP NEXT
The national body representing hundreds of mining and mineral exploration companies in Australia has told a parliamentary inquiry it would be "overreach" to strengthen federal laws to protect Aboriginal heritage.


© Provided by The Guardian
Photograph: PKKP Aboriginal Corporation/AFP/Getty Images


But at the same hearing into Rio Tinto's destruction of a 46,000-year-old sacred site at Juukan Gorge, the Law Council of Australia argued the opposite, saying there was an "an urgent need" for federal government leadership on Indigenous cultural heritage protection.


© Photograph: PKKP Aboriginal Corporation/AFP/Getty Images
The Juukan Gorge in Western Australia before it was destroyed by Rio Tinto in May.


The law council said the commonwealth needed to ensure state and territory laws enshrined important principles
…
Read More