By JOHN HANNA, AP Political Writer
TOPEKA, Kan. (AP) — Republicans on Sunday circulated a video of the Democrats' candidate for an open U.S. Senate seat in Kansas praising strict Australian gun laws that she said "took them all away" to undercut her campaign as a political moderate in what's been an unexpectedly tough red-state race for the GOP.
Democrat Barbara Bollier's spokeswoman accused Republican Roger Marshall's campaign of being "duplicitous" in highlighting the video. Bollier's campaign released longer audio from the same event that included moments in which Bollier said she supports the Second Amendment to the U.S. Constitution protecting gun rights and recalled hunting with her father.
The race appears to be close between Marshall, a two-term congressman for western and central Kansas, and Bollier, a Kansas City-area state senator who was a lifelong moderate Republican before switching parties late in 2018. As the GOP fights to keep
…
Read More
By JOHN FLESHER and MICHAEL KUNZELMAN, Associated Press
TRAVERSE CITY, Mich. (AP) — The foiled plot to kidnap Michigan's governor is a jarring example of how the anti-government movement in the U.S. has become an internet-driven hodgepodge of conspiracy theorists who have redirected their rage from Washington toward state capitols.
That's in contrast to the self-styled "militia" movement that took shape in the 1990s — loosely connected groups whose primary target was the federal government, which they considered a tyrannical force bent on seizing guns and imposing a socialist "new world order."
Deadly standoffs between FBI agents and extremists at Ruby Ridge, Idaho, and Waco, Texas, stoked those groups' anger. Timothy McVeigh and Terry Nichols, convicted in the 1995 bombing of the Oklahoma City federal building that killed 168 people, were reported to have met with Michigan militia activists.
Public revulsion over that massacre damaged the movement, which largely faded
…
Read More
The judge said he won't issue a ruling in the high-profile trial for another five to seven weeks – meaning the verdict will come in after Election Day, when Mattiello faces another hard-fought re-election campaign in House District 15.
The weeklong trial concluded on Friday after prosecutors made final oral arguments, claiming that Britt committed a felony punishable by up to 20 years in prison when he funneled $1,000 to a defeated Republican candidate, Shawna Lawton, so she could put out a mailer endorsing Mattiello, a Cranston Democrat.
Mattiello testified on Thursday, saying he never authorized the Lawton mailer and was angry when it hit the mailboxes in his district just before Election Day.
After hearing final arguments, Procaccini said Rhode Island's money laundering statute has "gone virtually unnoticed" for many years.
"I consulted with my colleagues. I've been on the bench for 20 years," he said. "No one recalls
…
Read More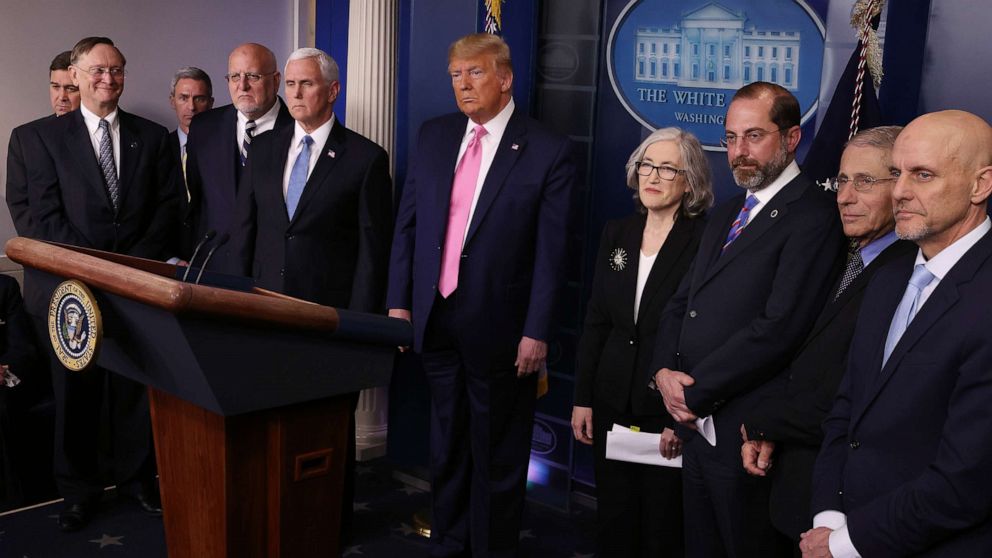 COVID-19 has taken the lives of more than 212,000 Americans.
In their letter, dated Thursday and obtained first by ABC News, Sens. Elizabeth Warren, D-Mass., Gary Peters, D-Mich., and Patty Murray, D-Wash., slammed the Trump administration for "repeatedly applying political pressure and imposing orders on career scientists that undermine the agencies' credibility and independence."
The Democrats urged the Government Accountability Office to "conduct an investigation to determine whether the CDC and FDA's scientific integrity and communications policies have been violated and whether those policies are being implemented as intended to assure scientific integrity throughout the agency."
…
Read More
By KEVIN FREKING, Associated Press
WASHINGTON (AP) — A federal watchdog agency has concluded that Agriculture Secretary Sonny Perdue violated the law in advocating for the reelection of President Donald Trump during an August visit to North Carolina. The Office of Special Counsel called on Perdue to reimburse the government for costs associated with his participation in the event.
The Hatch Act prevents federal employees from engaging in political activities while they are on the job. The Trump White House has been dismissive of alleged violations of the act over the years.
Chief of Staff Mark Meadows told Politico in late August that "nobody outside of the Beltway really cares" about Hatch Act concerns that were raised during the GOP nominating convention. The White House also declined to act on the Office of Special Counsel's calls last year to fire then-senior counselor Kellyanne Conway for being a "repeat offender" of
…
Read More
While there is mixed reaction on the merits of the decision not to take Nphet's advice to move to level five, of immediate and more serious concern is the apparent discord between our public health experts and the Government.
Criticism of Nphet is nothing new as witnessed over recent weeks where public health advice to Government has been questioned by a wide range of interest groups which in itself further erodes public confidence in public policy. 
At a crucial juncture in the fight against Covid-19, it is vital that good governance is restored among all stakeholders in the body politic to ensure public confidence is maintained in our policymaking process.
Our Government now finds itself in the unenviable position of trying to walk a political tightrope in maintaining public health and safety while attempting to re-boot our economy and ensure the maintenance of as near to a normal society as
…
Read More
By MATTHEW LEE, AP Diplomatic Writer
WASHINGTON (AP) — More Americans blame the U.S. government instead of foreign nations for the coronavirus crisis in the United States, a rebuke to the Trump administration's contention that China or other countries are most at fault, a new poll shows.
The poll by The University of Chicago Harris School of Public Policy and The Associated Press-NORC Center for Public Affairs Research was conducted before President Donald Trump tested positive for the virus Friday and was hospitalized. Trump has downplayed the severity and impact of the pandemic in recent months.
Although many see plenty of blame to go around and there's a wide bipartisan divide over who is responsible, 56% of Americans say the U.S. government has substantial responsibility for the situation. That compares with 47% who place that much blame on the governments of other countries and only 39% who say the same
…
Read More
The parliamentary factions will have to agree on a new candidate to take over negotiations.
Lebanon is reeling from an ongoing economic collapse that was made worse by a disastrous port explosion in August. The blast, caused by improperly stored ammonium nitrate, killed nearly 200 people and brought about the collapse of the previous government.
But efforts by the relatively unknown Adib to broker an agreement over the distribution of the ministerial portfolio stalled amid factional fighting. Among the sticking points, the country's leading Shiite Muslim groups, Amal and the armed militant group Hezbollah insisted on controlling the Finance Ministry.
Adib, who had tried to persuade political leaders to rally around a slate of independent experts to tackle the country's economic crisis, said he was unable to broker the impasse.
"I present my honest apologies to the Lebanese people, who have suffered and are suffering," Adib said.
…
Read More
In 2008 there will be one other spherical of presidential primaries, but with the primaries over a year away there may be an nearly unknown candidate John Cox of Illinois. She or he will need to have enrolled their minor small children of the college age group within any of the actual public or even private college selections identified by the Bureau of Public Faculties belonging to the Philippines by which Philippine heritage, government as well as civics might be taught and advisable as a pure part of the college curriculum, throughout the complete time interval related to the precise residence within the Philippines anticipated of him or her before the precise hearing of the actual petition for naturalization as Philippine citizen.
In the case of the protestor, it is smart that she would submit herself to the legal guidelines of the government and, in return, reap the reward of … Read More
Jewelry in Thailand is not only for the aim of magnificence however it's also associated to beliefs and faith, especially religion in religions and sure practices. Subsequently, different New England colonies – similar to Connecticut and Rhode Island – additionally succeeded in turning into self-governing just by asserting that they were past any governmental authority, after which setting up their very own political system modeled after that of the Pilgrims at Plymouth.
Her conclusions revealed atypical electoral behaviors in the 2002 Congressional elections the place areas that had experienced excessive ranges of paramilitary-related massacres, and thus presumed beneath paramilitary control, had produced unopposed political candidates who were elected with over 90 per cent of votes.
The session assessment entails the process of hearing folks (as people or in associational kinds corresponding to curiosity groups) searching for their guidance and informing them of the goals of the public coverage to be … Read More
Go to top