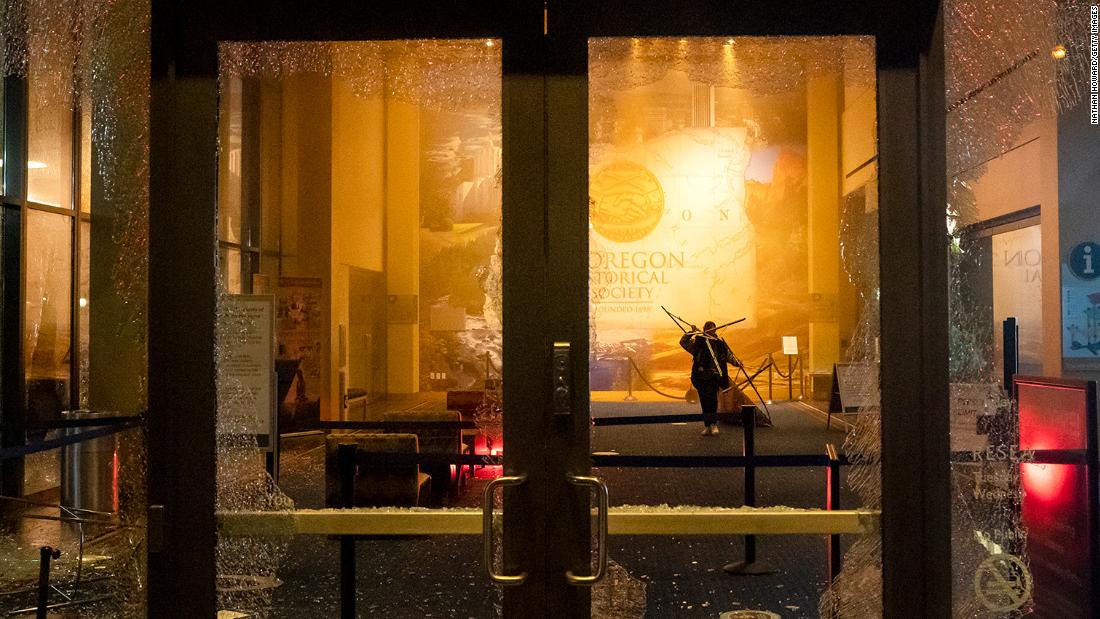 Malik Fard Muhamad was charged with one count of unlawful possession of a firearm, one count of possession of a loaded firearm in public, one count of criminal mischief in the first degree and one count of riot.
CNN has reached out to Muhamad and his family for a statement.
Activists called for people to march Sunday for an "Indigenous Peoples Day of Rage," the day before the federally recognized Columbus Day. Police declared the protest a riot after the group of about 300 people vandalized businesses and toppled statues of Teddy Roosevelt and Abraham Lincoln.
Law enforcement identified Muhamad as part of a group of people wearing all black and vandalizing buildings, according to a news release from the Multnomah County District Attorney's office. Muhamad ran from police as they attempted to arrest him, the release said.
During the arrest, police found a pistol behind barrels he was hiding
…
Read More
UPDATE OCT. 12: This story has been updated to correctly state that the Oregon State Bar had made accusations against Gary Bertoni for alleged wrongdoing between 2015 to 2019.
Gary Bertoni, who for many years made frequent appearances in Portland courtrooms while representing some of Multnomah County's high profile defendants, has surrendered his law license in Oregon amid a swirl of criminal and administrative allegations — including that he stole client money.
The Oregon Supreme Court on Sept. 30 accepted Bertoni's "Form B" resignation, ending a law career that started in Oregon 42 years ago and showed no public signs of trouble until Bertoni had reached his early 60s.
Bertoni, now 69, didn't respond to requests for comment for this story. He is now living in Arizona, according to his resignation letter.
At the height of his law career, Bertoni once had approximately 15 employees at his Portland area law
…
Read More
The U.S. Department of Homeland Security will not pay the multi-million dollar fines it owes to two Portland bureaus for erecting an iron fence around the federal courthouse in the city.


© Provided by Washington Examiner
In letters to the Portland Bureau of Transportation and the Bureau of Environmental Services obtained by Pamplin Media, Federal Protective Service Assistant Director David A. Hess claimed the U.S. Constitution's Supremacy Clause absolves the agency from city fines.
"The Federal Government is absolutely immune from fines or penalties issued by local governments unless there is a clear waiver of sovereign immunity by Congress," Hess wrote. "There has been no such waiver here."
The PBOT originally fined the federal government for blocking city bike lanes with the security fence it set up around the Mark O. Hatfield Federal Courthouse during this summer's protests.
At a rate of $500 every 15 minutes, or $48,000
…
Read More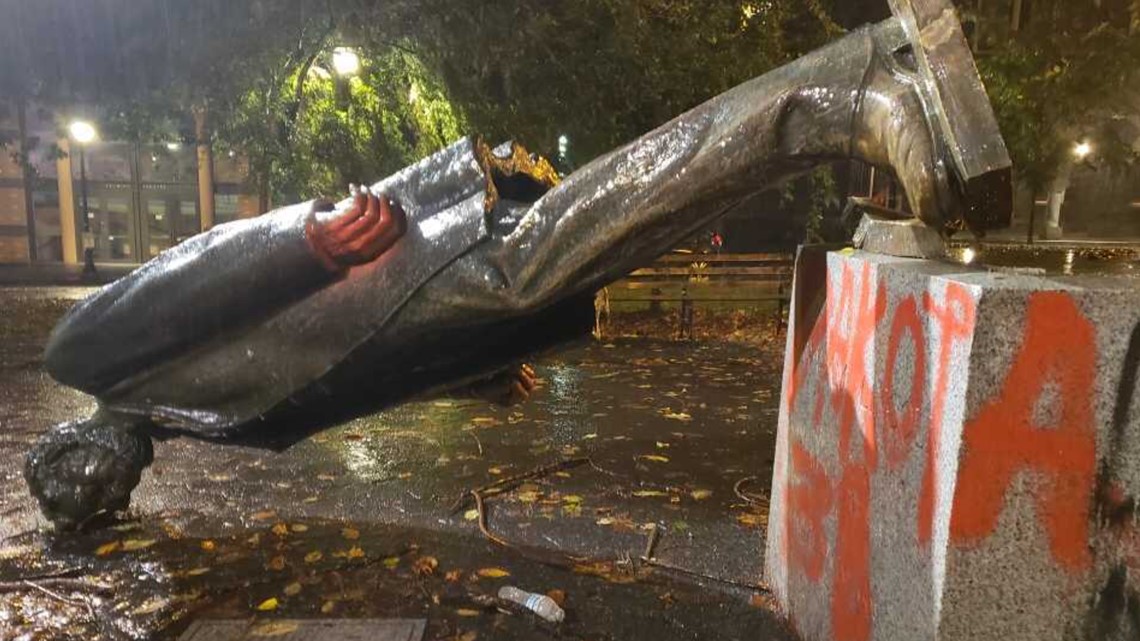 A social media post announcing the event called for an end of colonialism and the abolishment of police.
PORTLAND, Ore. — Police declared a riot in downtown Portland on Sunday night after a large group of about 300 people marched through the South Park Blocks, toppling statues of Abraham Lincoln and Theodore Roosevelt and breaking windows.
The group also broke windows and threw flares into the Oregon Historical Society. Someone stole an Afro-American Heritage Bicentennial Commemorative Quilt, which was made by 15 local Black women ahead of the bicentennial and was on display inside the museum. Officers found the quilt blocks away, soaking wet with a small tear.
…
Read More
President Donald Trump blasted demonstrators who organized in Portland on Sunday evening. 
"Put these animals in jail, now," he tweeted Monday morning. "The Radical Left only knows how to take advantage of very dumb 'leadership' fools. This is Biden! Law & Order!"
People gathered in the Oregon city for an event called "Indigenous Peoples Day of Rage Against Colonialism" to protest Columbus Day and toppled two statues of former presidents. 
Trump also tweeted that New York and California have gone "to hell."
Visit Business Insider's homepage for more stories.
President Donald Trump doubled down on his "law and order" campaign rhetoric on Monday morning by denouncing protestors in Portland, Oregon, and calling for their arrests after some of them toppled two statues on Sunday night.
"Put these animals in jail, now," Trump said on Monday morning in a retweeted video of the protests. "The Radical Left only knows how to
…
Read More