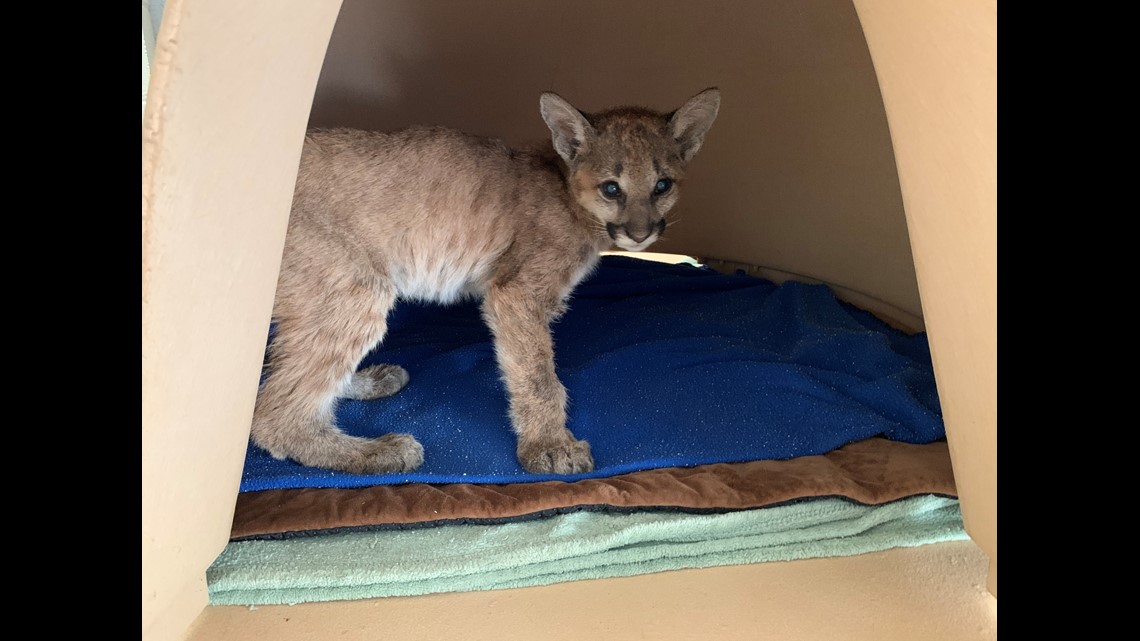 An orphaned mountain lion cub who arrived at San Diego Humane Society's Project Wildlife, Ramona Campus was in critical condition but is finally feeling better.
SAN DIEGO COUNTY, California — A mountain lion cub was spotted by firefighters from the Vista Grande Fire Station near a road in Idyllwild on Sept. 2, according to the San Diego Humane Society. She was semiconscious, extremely emaciated, dehydrated, weak and had tremors. The firefighters contacted the California Department of Fish and Wildlife, who reached out to San Diego Humane Society.
The organization's Project Wildlife team went to work providing lifesaving treatment for the 10.5-pound cub, estimated to be only 14 weeks old. She received daily fluid therapy and medications. Within a couple of weeks, she progressed from three to five small, nutritious meals per day. They include ground proteins with milk replacer, to allow her body a slow transition to solid foods. 
…
Read More
SAN DIEGO (KGTV) — A mountain lion cub rescued by the San Diego Humane Society continues to make great strides in its recovery.
The Humane Society said the female cub was found by Vista Grande Fire Station firefighters near a road in Idyllwild on Sept. 2. The cub was "semiconscious, extremely emaciated, dehydrated, weak and had tremors," according to the Humane Society.
Under the care of the Humane Society's Project Wildlife, the cub — believed to be 14 weeks old — has made significant health progress.
Through daily fluid therapy, medications, and proper meals, the Humane Society said the cub has increased her weight from 10.5 pounds to 22 pounds.
Christine Barton, the director of Operations & Wildlife Rehabilitation at the Humane Society's Ramona campus, said, "With each passing day, she becomes more active and responsive and, though she still has some medical issues to overcome from being in such
…
Read More
What's New: The U.S. Department of Defense has awarded Intel Federal LLC the second phase of its State-of-the-Art Heterogeneous Integration Prototype (SHIP) program. The SHIP program enables the U.S. government to access Intel's state-of-the-art semiconductor packaging capabilities in Arizona and Oregon and take advantage of capabilities created by Intel's tens of billions of dollars of annual R&D and manufacturing investment. The project is executed by the Naval Surface Warfare Center, Crane Division, and administered by the National Security Technology Accelerator.
This press release features multimedia. View the full release here: https://www.businesswire.com/news/home/20201002005095/en/
Intel's newest, leading-edge manufacturing facility is Fab 42 in Ocotillo, Arizona. Fab 42 connects to three other Intel fabrication plants, making the site Intel's first mega-factory network. It manufactures our newest generation of leadership products that will power hundreds of millions of computing devices worldwide. (Credit: Intel Corporation)
"Intel and the U.S. government share a priority to advance domestic
…
Read More
The small South American country of Guyana is home to immense offshore oil reserves that Exxon is planning to extract.
The company already has two drilling projects, and on Wednesday the government approved a third, further cementing the oil giant's role in the country's economic future. 
Do you have information on Exxon in Guyana? Reach out to this reporter at [email protected] or on WhatsApp at +1-646-768-1657. 
For more stories like this, sign up here for our weekly energy newsletter.
Exxon, the largest oil company in the West, strengthened its grip on Guyana's oil riches on Wednesday as it received government approval for a third oil-drilling project, set to produce crude by 2024.
The small South American country is a critical piece of the oil giant's future as it looks to extract oil cheaply. On Thursday, the price of crude was down about 38% relative to the start of the year,
…
Read More
"No one's walking away from it right now, but we just don't know what the game plan is yet," said Julia Wallerce, who leads the Boston office of the Institute for Transportation and Development Policy, which has pressed for more bus-only lanes. "This is a big bang for your buck kind of corridor. We've just got to get enough bucks to fund it."
The commissioner of the Boston Transportation Department, Greg Rooney, said the grant decision was obviously disappointing, but the Blue Hill Avenue project remains a priority for Mayor Martin J. Walsh. The city plans to make smaller improvements in the short-term, such as repainting crosswalks, and Rooney pledged to find funding elsewhere — either through the city's budget, the MBTA's, or some combination.
"We are committed to moving this project forward next year," added Vineet Gupta, the department's director of planning.
The MBTA is "regrouping with the city
…
Read More