WARSAW, Poland (AP) — Thousands of angry farmers chanting anti-government slogans protested Tuesday in Warsaw against draft legislation that would ban fur farms, religious slaughter for export and the use of animals for entertainment and in circuses.
Towing a life-size figure of a cow, the farmers gathered before the parliament building where the Senate is debating the draft that has divided the ruling camp as well as the opposition. It has also angered farmers, who until now have been devoted supporters of the conservative government.
Critics of the bill say it threatens the livelihoods of farmers breeding mink and other animals for fur and well as for ritual slaughter, and would put an end to a large sector of Poland's exports.
The main ruling party proposed the bill, arguing it was to protect animals' wellbeing, but the controversies almost destroyed the governing right-wing coalition as many of its lawmakers refused
…
Read More
Whether the security guard who shot and killed a Denver demonstrator over the weekend will be able to successfully argue in court that he acted in self-defense will depend on the particular nuances of the case, Colorado legal experts said Monday.
Doug Richards, who is working with the family of Matthew Robert Dolloff, 30, called the shooting tragic Monday, and said that Dolloff fired only when he was attacked. Dolloff shot and killed Lee Keltner, 49, toward the end of two opposing demonstrations downtown, with one billed as a "Patriot Rally" and the other a "BLM-Antifa Soup Drive."
"This was a very clear case of Matt acting in self-defense," Richards said.
Dolloff has not yet been charged by prosecutors but is being held by police on suspicion of first-degree murder.
Under Colorado law, someone can use deadly force in self-defense only if that person reasonably thinks using less force won't
…
Read More
BANGKOK (Reuters) – The Thai government said on Monday it was not concerned about a student-led demonstration on Wednesday as protest leaders sought to escalate their push to demand a new constitution and oust Prime Minister Prayuth Chan-ocha.
During three months of protests, anti-government activists have also broken a taboo by calling for reforms of the powerful monarchy of King Maha Vajiralongkorn, who is "enthroned in a position of revered worship" according to the constitution.
Protesters, who drew tens of thousands of people to a demonstration last month, said they planned to gather on Wednesday at Bangkok's Democracy Monument before moving to Government House and would camp there overnight.
Deputy Prime Minister Prawit Wongsuwan told reporters that he did not expect huge turnout.
"We're prepared and not worried," he said. "I think we can handle it."
The protest leaders, organising under the new banner of the People's Movement, said their
…
Read More
President Donald Trump was "pandering" to Black and Latinx Americans during his White House speech on Saturday in a bid to get their votes just weeks before the election, Fox News anchor Arthel Neville told viewers.


© Samuel Corum/Getty Images
U.S. President Donald Trump addresses a rally in support of law and order on the South Lawn of the White House on October 10, 2020 in Washington, DC.


The president stood on a balcony to address several hundred supporters gathered on the South Lawn on Saturday afternoon in his first in-person event since he revealed he had tested positive for coronavirus.
The rally was organized by Black conservative commentator Candace Owens and former Arizona police officer Brandon Tatum's Blexit Foundation.
Touted by the White House as a "peaceful protest for law and order," Trump told the crowd: "You just marched to the White House because you understand, to protect the
…
Read More
President Donald Trump is expected to give in-person remarks during an event today on the South Lawn of the White House, despite his coronavirus diagnosis and restrictions on mass gatherings that remain in effect for Washington, D.C.


© Win McNamee/Getty
President Donald Trump removes his mask upon return to the White House from Walter Reed National Military Medical Center on October 05, 2020 in Washington, DC. Trump spent three days hospitalized for coronavirus.


The president's schedule for today suggests that he will deliver "remarks at a peaceful protest for law and order" at 2 p.m., confirming the ABC News report yesterday which said Trump was expected to address attendees from a White House balcony.
UP NEXT
If it goes ahead, it will mark the president's first in-person event since announcing last
…
Read More
(Bloomberg) — Follow Bloomberg on LINE messenger for all the business news and analysis you need.


© Photographer: MLADEN ANTONOV/AFP
Students make the three-fingered salute as they stand behind the gate of Samsen school to demand for less strict school rules, more tolerance and respect during a protest in Bangkok on October 2, 2020


A planned anti-government protest in Bangkok next week is set to draw some 100,000 people, or twice as many participants as a demonstration last month, according to organizers.
Load Error
The gathering scheduled for Oct. 14 will call on the government to resign and the monarchy to be reformed, said Arnon Nampa, a lawyer and leading figure in the campaign.
"People who want any or all of these changes should join the movement," Arnon said at a briefing in Bangkok on Thursday. "We're looking to increase pressure on the government."
Thailand's political risk is back in
…
Read More
Workers in Indonesia are protesting for the third straight day after a new job creation law was passed this week.
Thousands have taken part in strikes and demonstrations in several cities, with hundreds detained by the police.
Protesters are worried that the so-called "omnibus law" will hurt both workers and the environment.
But the government says the changes are needed to help its economy which has been hit hard by the Covid-19 pandemic.
Demonstrations have gathered steam in the capital Jakarta and other cities such as Bandung on Wednesday and Thursday, after relatively peaceful protests earlier in the week.
Indonesian police detained at least 400 protesters, including some who were allegedly armed with molotov cocktails and sharp weapons.
The bill, which is over 1,000 pages long and amends 79 existing laws, was passed on Monday with the support
…
Read More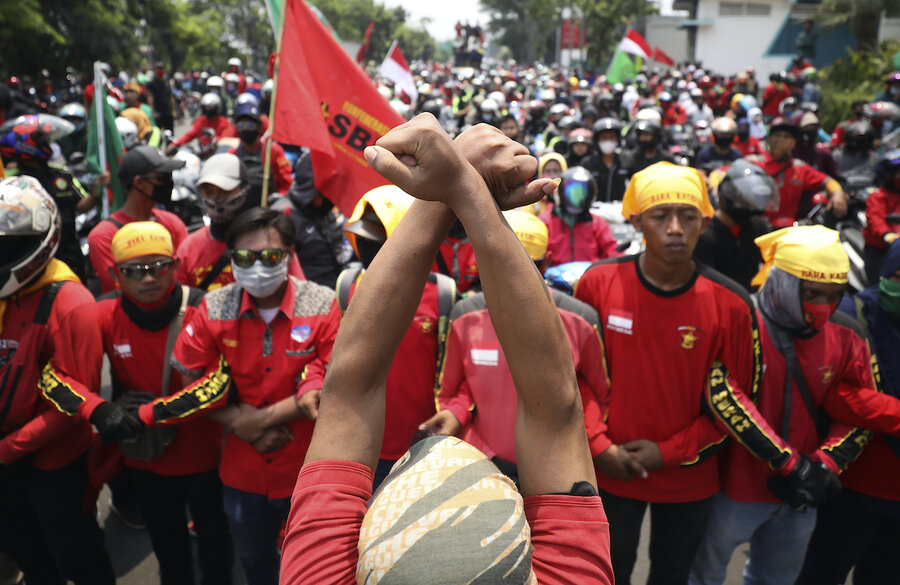 Bandung and Jakarta, Indonesia
Thousands of Indonesian students and workers protested on Wednesday against a new law they say will cripple labor rights and harm the environment, with some clashing with police. 
The new Job Creation Law, which was approved Monday, is expected to bring radical changes to Indonesia's labor system and natural resources management. It amended 79 previous laws, including the Labor Law, the Spatial Planning Law, and Environmental Management Law.
It is intended to improve bureaucratic efficiency and cut red tape as part of efforts by President Joko Widodo's administration to attract more investment in the vast archipelago nation, home to more than 270 million people. Supporters of the law say it will increase employment at a time when a recession looms and when Indonesia is competitively falling behind other Southeast Asian countries.
Seven parties in the House of Representatives approved the legislation while two others rejected it,
…
Read More
BANDUNG, Indonesia (AP) — Thousands of Indonesian students and workers protested on Wednesday against a new law they say will cripple labor rights and harm the environment, with some clashing with police.


© Provided by Associated Press
A labor demonstrator raises his fists in support of the protest against a controversial omnibus bill on job creation in Tangerang, Indonesia, Wednesday, Oct. 7, 2020. Thousands of students and laborers protested on Wednesday against the new law they say cripples labor rights and harms the environment. (AP Photo/Dita Alangkara)


Authorities in Bandung, the capital of West Java province, blocked streets leading to the local parliament building and city hall, where clashes between rock-throwing students and riot police broke out late Tuesday when police tried to disperse the protesters.


© Provided by Associated Press
Indonesian workers march during a protest against a controversial omnibus bill on job creation, in Tangerang, Indonesia, Wednesday, Oct.
…
Read More
Go to top