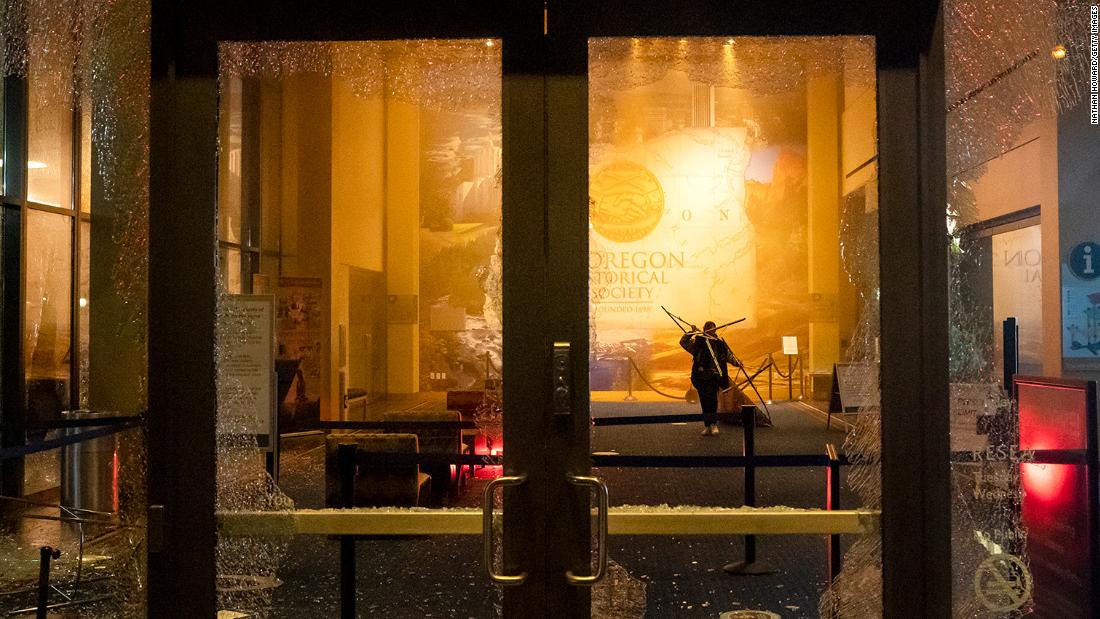 Malik Fard Muhamad was charged with one count of unlawful possession of a firearm, one count of possession of a loaded firearm in public, one count of criminal mischief in the first degree and one count of riot.
CNN has reached out to Muhamad and his family for a statement.
Activists called for people to march Sunday for an "Indigenous Peoples Day of Rage," the day before the federally recognized Columbus Day. Police declared the protest a riot after the group of about 300 people vandalized businesses and toppled statues of Teddy Roosevelt and Abraham Lincoln.
Law enforcement identified Muhamad as part of a group of people wearing all black and vandalizing buildings, according to a news release from the Multnomah County District Attorney's office. Muhamad ran from police as they attempted to arrest him, the release said.
During the arrest, police found a pistol behind barrels he was hiding
…
Read More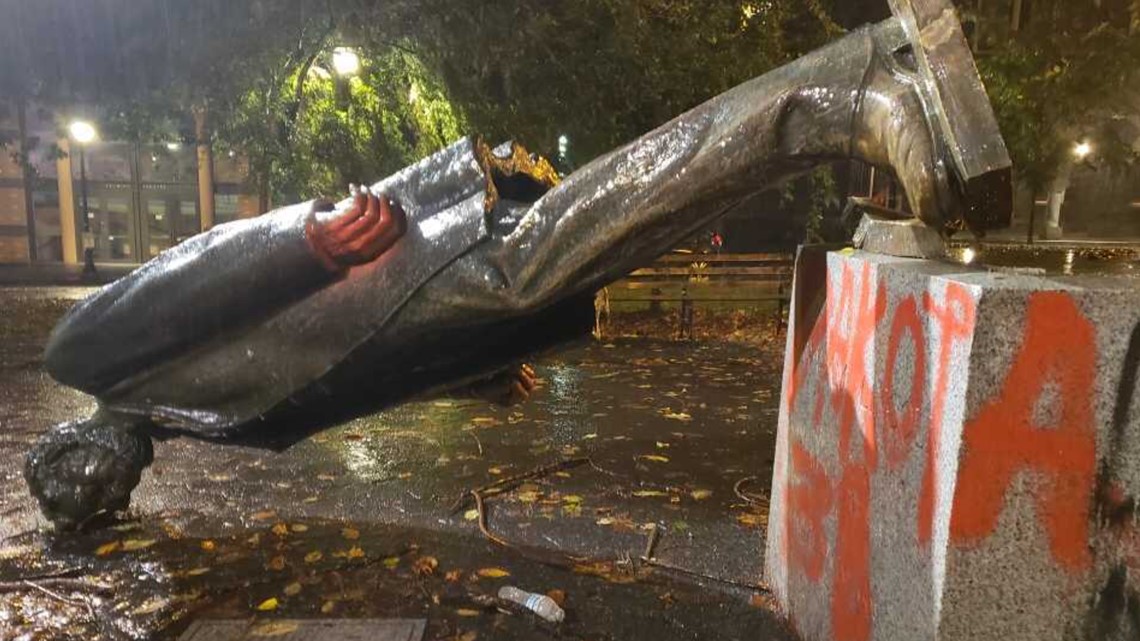 A social media post announcing the event called for an end of colonialism and the abolishment of police.
PORTLAND, Ore. — Police declared a riot in downtown Portland on Sunday night after a large group of about 300 people marched through the South Park Blocks, toppling statues of Abraham Lincoln and Theodore Roosevelt and breaking windows.
The group also broke windows and threw flares into the Oregon Historical Society. Someone stole an Afro-American Heritage Bicentennial Commemorative Quilt, which was made by 15 local Black women ahead of the bicentennial and was on display inside the museum. Officers found the quilt blocks away, soaking wet with a small tear.
…
Read More
Hundreds of cars and motorbikes paraded Monday in Madrid and other Spanish cities in protests called by the far-right to demand Prime Minister Pedro Sanchez and his government resign.
Anti-government protest in Malaga Photo: AFP / JORGE GUERRERO
Sporting red and yellow national flags and banners, people gathered on Spain's national day at the call of far-right party Vox to protest the left-wing government's handling of the coronavirus pandemic.
In Madrid, hundreds of vehicles went down the large Castellana avenue where a military parade normally takes place on October 12, cancelled this year due to the pandemic.
Protesters called out by the far-right party Vox drive through Madrid to protest the state of emergency the government imposed to fight a resurgence in the coronavirus Photo: AFPTV / Rebeca MAYORGA
Car protests also took place in Valencia in the east, and Seville and Malaga in the south, according to images on
…
Read More
JAKARTA, Indonesia (AP) — Authorities in Indonesia's capital on Saturday were cleaning up burned-out cars, government offices and bus shelters that were set ablaze by protesters enraged over a new law they say will cripple labor rights and harm the environment.
Protests in many Indonesian cities turned violent Thursday. At least 20 bus stops and other transit facilities were destroyed in Jakarta, causing 55 billion rupiah ($3.7 million) in damage, said Jakarta Gov. Anies Baswedan.
…
Read More
Last April, states began to sporadically reopen after weeks of being shut down. Georgia was among the first to begin the process, while some states didn't start lifting restrictions until June. The uncoordinated reopening caused chaos, according to Sinan Aral, director of MIT's Initiative on the Digital Economy.
Why? Because Georgia pulled in hundreds of thousands of visitors from neighboring states — folks hoping to get a haircut or go bowling.
Aral was tracking Americans on social media, and it became clear to him that having uncoordinated policies for the coronavirus doesn't make sense. As people watched their social feeds fill with images of people heading back outside, they stepped out too — even if their state wasn't at the same phase.
Aral, the author of "The Hype Machine: How Social Media Disrupts Our Elections, Our Economy, and Our Health — and How We Must Adapt," has used social media
…
Read More
(Bloomberg) — Kyrgyz President Sooronbay Jeenbekov declared martial law in the capital, Bishkek, Friday in an attempt to curtail the political chaos that has rocked the country since disputed parliamentary elections.
A curfew from 8 p.m. to 8 a.m. will be in place until the state of emergency ends on Oct. 21, according to an order from the presidential administration. The head of Kyrgyzstan's Interior Ministry was appointed the city's commandant.
The move was an attempt to reassert Jeenbekov's authority after demonstrators protesting the results of Sunday's election overran the parliament building and released a former president from jail. Parties close to Jeenbekov had dominated the disputed vote.
Street protests were continuing Friday, according to videos posted by local news website 24.kg.
Earlier Friday, Jeenbekov dissolved the government and fired the head of the military and the chairman of the security council in a series of executive orders.
In
…
Read More
Oct. 8 (UPI) — Tens of thousands of people in Indonesia took part in the third day of protests against a sweeping law cutting protections for workers and the environment.
Riot police fired tear gas and water cannons at protesters in the nation's capital, Jakarta, where authorities said they had detained more than 800 people as protesters defied a ban on gathering amid the COVID-19 pandemic and attempted to march on the presidential palace.
Protesters threw rocks at police and burned a police post and two transit stops, as leaders of a national strike said the violence was not affiliated with the labor action.
The protests were sparked by a 900-page omnibus bill amending more than 75 laws allowing companies to cut pay for workers, eliminate days off and hire contract workers.
It also relaxed environmental standards, only requiring businesses to file an environmental impact analysis for projects that are
…
Read More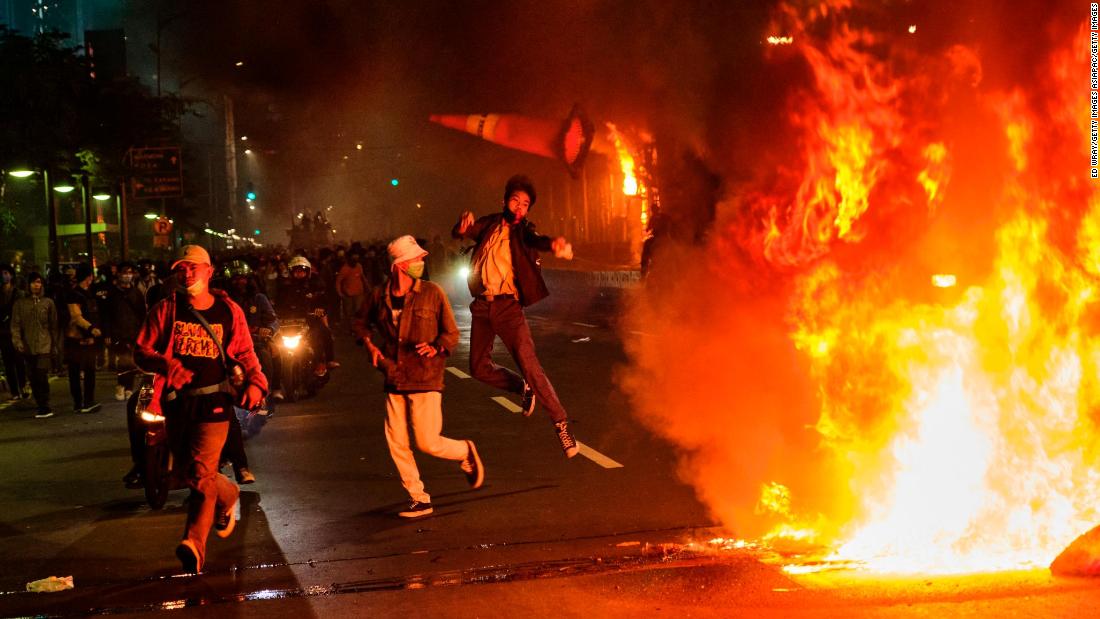 At least 60 demonstrators and six police were injured at the demonstration near the Presidential Palace during the third day of a nationwide strike and demonstrations in the Southeast Asian nation, the news agency reported.
Videos showed protesters shouting, throwing stones, breaking into buildings and setting fires near the national palace as police deployed water cannon and tear gas to disperse the crowds.
The Indonesian Red Cross said some protesters were suffering from a shortness of breath after police fired tear gas. They also fired water cannon to disperse the crowd.
Critics say the new legislation, locally known as the "omnibus law," scraps some labor rights, indigenous community rights and environmental protections. They also complain the legislation was rushed through parliament without consultation with unions.
President Joko Widodo has touted the law as a tool to create new jobs, reform labor regulations, cut red tape and attract foreign investment.
Protests
…
Read More
JAKARTA, Indonesia — Riot police officers fired tear gas and water cannons in Indonesia's capital on Thursday as they tried to disperse large crowds of people protesting a sweeping new law that slashes protections for workers and the environment.
In cities and towns throughout Indonesia's vast archipelago, tens of thousands of workers took part in the third day of a national strike against the deregulation law. Workers marched on foot and rode in motorbike parades as sound trucks blared protest messages. Union leaders denounced Parliament and President Joko Widodo for pushing the measure through.
In the center of Jakarta, the capital, protesters assembled in defiance of a city ban on gathering during the pandemic and tried to march to the presidential palace. Some threw rocks at the police and set fires in the city center, burning a police post and two transit stops. The police said officers had detained more
…
Read More
JAKARTA, Indonesia (AP) — Protests in many Indonesian cities turned violent Thursday as thousands of enraged students and workers criticized a new law they say will cripple labor rights and harm the environment.
Clashes between rock-throwing demonstrators and riot police broke out near Jakarta's presidential palace as police tried to disperse the protesters, including workers and high school and university students.
President Joko Widodo is visiting Central Kalimantan province and was not in the palace.
Police fired tear gas at the protesters from several high schools and universities as they tried to approach the palace compound, turning roads into a smoke-filled battleground. The protesters fought back, hurling rocks and bottles.
An angry mob burned a traffic police post at an intersection near the palace, while other protesters set fires to tires and fiberglass road barriers. As night fell, some protesters set fire to a subway shelter in downtown Jakarta, causing
…
Read More
Go to top