JERUSALEM — The Israeli government has extended an emergency provision that bars public gatherings, including widespread protests against Prime Minister Benjamin Netanyahu, for an additional week.
Government ministers approved the measure until Oct. 13 by a telephone vote, the Prime Minister's Office said in a statement late Wednesday.
Israel imposed a nationwide lockdown ahead of the Jewish High Holidays last month to rein in the country's surging coronavirus outbreak. The Knesset, Israel's parliament, passed a law last week allowing the government to declare a special week-long state of emergency to limit participation in assemblies because of the pandemic. The government then declared the state of emergency, limiting all public gatherings to within a kilometer (0.6 miles) of a person's home.
Netanyahu has said the restrictions are driven by safety concerns as the country battles a runaway pandemic, but critics and protesters accuse him of tightening the lockdown to muzzle their
…
Read More
By Agustinus Beo Da Costa and Willy Kurniawan
JAKARTA (Reuters) – Police and demonstrators clashed in the Indonesian capital Jakarta on Thursday on the third day of protests and labour strikes against a polarising new jobs law passed in Southeast Asia's largest economy earlier this week.
Hundreds of demonstrators gathered near the presidential palace in central Jakarta, shouting and throwing stones. Police responded by firing tear gas and water cannon in an attempt to disperse the crowd, Reuters witnesses said.
The "omnibus" jobs creation bill, passed into law on Monday, has seen thousands of people across the world's fourth-most populous nation take to the streets in protest against legislation they say undermines labour rights and weakens environmental protections.
"We ask that the law be repealed immediately," Maulana Syarif, 45, who has worked at Astra Honda motors for 25 years, told Reuters in Jakarta. "This is our struggle for our children
…
Read More
The Daily Beast
South Korean Activists Accuse China of Using Huawei to Hack Their Election
Conservative critics of South Korea's government persist in pressing claims of widespread fraud in the country's April elections, pointing to what they say is new evidence—in the form of alleged electronic distortions and mail-in balloting irregularities—to suggest the country's ruling party won its majority in the National Assembly with expertise and advice from China.The ongoing controversy comes as U.S. President Donald Trump and his Justice Department claim interference from China, not Russia, is the biggest threat to voting in the U.S. Facebook has already taken down a slew of China-linked pages targeting both Trump and Democratic nominee Joe Biden. (Meanwhile a Department of Homeland Security whistleblower says Trump allies interfered with intelligence reports to downplay Russia's threat.)Charges of cheating in the South Korea assembly elections gained steam with the publication in May of a lengthy
…
Read More
Indonesian police have used water cannon and teargas to disperse protesters rallying against a new jobs law in two cities on the island of Java, according to a police spokesman and media reports.
Thousands of workers and students had protested peacefully across the archipelago on Tuesday at the start of a three-day national strike against president Joko Widodo's "omnibus" job creation bill, which was passed into law on Monday.
Elshinta radio posted a video on its official Twitter account showing police late in the evening using water cannon against hundreds of protesters in the city of Serang in Banten province, about 70km (43.5 miles) to the west of Jakarta.
…
Read More
When the Jerusalem police cracked down, the protests only accelerated. Eventually, Netanyahu's backers craved their own show of force. They found it in a group of soccer fans.
That group, La Familia, is composed of infamously racist "ultras" who support the team Beitar Jerusalem. On their face, ultras are highly organized fans; at games, they lead raucous chants, unfurl massive banners and set off flares. In practice, they can operate as members of a street gang united by criminality, ideology or a little bit of both.
Beitar is the unofficial team of Israel's political right. It is the only club in the Israeli Premier League to never have had an Arab player on its roster, and it is Netanyahu's favorite team. So as the summer's protests swept Jerusalem, Likud activist Amnon Ben Ami put the call out for the ultras on his popular Facebook page: "La Familia, you are the
…
Read More
ALMATY (Reuters) – People protesting the results of a parliamentary election in Kyrgyzstan broke into government and security headquarters early on Tuesday and freed a former president from custody, local news websites said.
Authorities said they did not rule out holding another vote.
The thousands-strong protests broke out after two establishment parties, one of which is close to President Sooronbai Jeenbekov, swept Sunday's vote, according to preliminary results.
Protesters demanded that the vote results be cancelled and the Central Election Commission said on Tuesday it would consider their request, local news website 24.kg reported.
Russian news agency RIA quoted Jeenbekov's spokeswoman as saying he also did not rule out annulling the results of the contested election.
Police had dispersed the protest late on Monday, but protesters returned to the central square of capital Bishkek hours later and broke into the building that houses both the president and parliament, the local
…
Read More
JERUSALEM (Reuters) – Israel's tourism minister resigned on Friday in protest at a new law that curbed demonstrations against Prime Minister Benjamin Netanyahu, saying the measure left him without a "shred of trust" in the veteran leader.
Asaf Zamir will be replaced by Orit Farkash Hacohen, a fellow member of the Blue and White party, a party spokeswoman said.
"My conscience does not allow me to stay in a government that prevents de facto protests," Zamir said on Facebook. "Even at its most difficult time, Netanyahu runs the country according to his own political interest."
Netanyahu's right-wing Likud, which forged a coalition government with Blue and White in May after a close election, called Zamir's resignation an attempt to shore up support from liberal Israelis angry with the premier. Blue and White is led by Defence Minister Benny Gantz, a Netanyahu rival.
"Blue and White are sitting in a government
…
Read More
JERUSALEM (Reuters) – An Israeli minister resigned on Friday in protest against a new law that curbed demonstrations against Prime Minister Benjamin Netanyahu, saying the measure left him without a "shred of trust" in the veteran leader.
In a Facebook post, Tourism Minister Asaf Zamir said: "My conscience does not allow me to stay in a government that prevents de facto protests."
"Even at its most difficult time, Netanyahu runs the country according to his own political interest," said Zamir, a member of the Blue and White party led by defence minister and prominent Netanyahu rival Benny Gantz.
For months, Netanyahu has faced domestic protests against his handling of the coronavirus crisis and over allegations of corruption, which he denies.
Parliament on Wednesday approved a government-backed edict banning Israelis from holding demonstrations more than 1 km (0.6 miles) from their homes, tightening a second-wave coronavirus lockdown that went into effect
…
Read More
By Amina Ismail
BAGHDAD (Reuters) – A few hundred Iraqis gathered in Baghdad's central Tahrir square on Thursday to mark the anniversary of anti-government unrest that erupted last year and to put pressure on the authorities to meet their demands.
Protesters waved the Iraqi flag and chanted "free revolutionaries, we will continue the path."
Some sang patriotic songs while clapping.
"We are here to start the revolution again…We haven't forgotten about the blood of the martyrs," said Abbas Younis, 25, wearing an Iraqi flag as a cape and a surgical mask.
More than 560 people, mostly unarmed demonstrators but also some members of the security forces, have been killed since a spate of popular unrest began on Oct. 1, 2019, with both security forces and unidentified gunmen shooting people dead.
London-based Amnesty International called on the Iraqi government on Thursday to do more to "deliver justice to the hundreds killed
…
Read More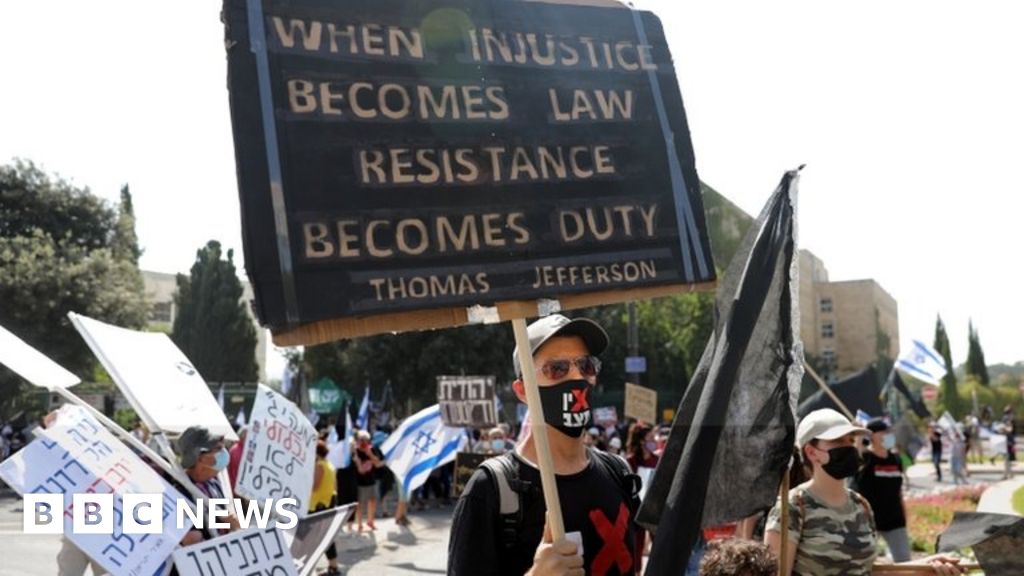 Israel's parliament has handed the government the power to ban mass protests during the country's second nationwide coronavirus lockdown.
Demonstrators will be confined to groups of up to 20 people and must stay within 1km (0.6 miles) of their homes.
The law should have been part of a range of measures passed on Friday.
But the government struggled to get the necessary votes after critics accused it of trying to stifle protests against Prime Minister Benjamin Netanyahu.
For weeks, thousands of people have gathered outside his official residence in Jerusalem to demand he resign over corruption allegations and his handling of the pandemic. Mr Netanyahu has denied any wrongdoing.
The protests have continued despite a dramatic resurgence of Covid-19.
…
Read More
Go to top