October 14, 2020– Comtech Telecommunications Corp. (NASDAQ: CMTL) announced today that its Tempe, Arizona-based subsidiary, Comtech EF Data Corp., which is part of Comtech's Commercial Solutions segment, received an aggregate of $1.7 million in orders for Up and Down Frequency Converters and Low Noise Amplifiers ("LNAs") from a large government entity in Asia.
After a competitive request for proposal process and vendor evaluation, the government entity selected Comtech EF Data's Frequency Converters and LNAs to support a significant network upgrade. The Comtech equipment will replace a mix of vendors' installed equipment. The enhanced network infrastructure will support critical voice, data, and video applications, as well as inter-branch office communications.
Comtech EF Data has developed and manufactured an extensive line-up of Frequency Conversion and Amplifier solutions for over 25 years, with L-, C-, X-, Ku- and Ka-Band offerings. The indoor and outdoor products are field-proven, cost-effective and provide the reliability and
…
Read More
TORONTO, Oct. 8, 2020 /CNW/ – PortsToronto has won a Canadian Public Relations Society (CPRS) Gold National Award of Excellence for the PortsToronto Seabin Pilot Program in the Best Use of Media Relations – Small Budget (less than $10,000 CAD).
The CPRS National Awards of Excellence recognize outstanding achievement in a comprehensive public relations and communications project or program, with judging executed by expert panels of leading public relations and communications management practitioners from across the country. The awards were established in 1962 and are considered one of Canada's most prestigious public relations honours.
The launch of the Seabin Pilot Program, a first in Canada, aimed to reinforce PortsToronto's role as leaders in sustainability, reduce litter in Toronto's harbour and
…
Read More
In handing down its 2020-21 Budget, the Australian government has opened its wallet to provide a AU$2 billion boost in additional research and development tax incentives (RDTI), touting that the amount will help businesses manage the economic impacts of the COVID-19 pandemic.
"Research and development, the adoption of digital technology, and affordable and reliable energy will be critical to Australia's future economic prosperity," Treasurer Josh Frydenberg said during his Budget speech.
The federal government detailed in its Budget documents that for small companies, with total annual turnovers of less than AU$20 million, the refundable R&D tax offset will be set at 18.5 percentage points above a company's tax rate, and the AU$4 million cap on annual cash refunds will be canned.
Meanwhile, for larger firms, with annual turnovers of AU$20 million or more, the government said it will reduce the number of intensity tiers from three to two.
"This will
…
Read More
The Pennsylvania Historical & Museum Commission has given a $25,000 grant to the Historical Society of Perry County that will be used to continue planning for the preservation of the Clarks Ferry Tavern in Duncannon, according to a commission announcement.
"Our thanks to the Friends of Clark's Ferry Tavern, our elected officials, donors and board of the historical society," its President Glenn Holliman said in an email informing everyone of the grant. "This is a major step forward."
The historical society and the Friends of Clarks Ferry Tavern community group have been planning for several years to stabilize, preserve and fix the Market Street building that dates to the late 1700s. The tavern is one of the oldest buildings standing in the county and reflects all that remains of a once important business empire that contributed to the county's early growth, and as a waypoint during westward expansion of the
…
Read More
High-profile Saskatchewan lawyer Tony Merchant has been disciplined by the Law Society of Saskatchewan for alleged inappropriate conduct involving a "threatening" letter pressuring a residential school survivor to use her settlement money to pay unrelated legal bills.  
Merchant's licence will be suspended for eight months starting in February 2021. He told the Regina Leader-Post newspaper that he intends to appeal the decision and that the facts do not support the findings. CBC has contacted Merchant for a response.
The society found Merchant inappropriately withheld about $21,310 that was supposed to be paid to the woman through a federal settlement agreement for residential school survivors.
Merchant and his law group led the class action lawsuit against the federal government, which led to compensation for residential school survivors in 2005.
'We could sue you'
Merchant wanted the woman to use part of the settlement to pay prior legal bills for her and
…
Read More
The Guelph Black Heritage Society says it has received $5,000 for its #ChangeStartsNow educational campaign.


© Matt Carty / Global Guelph
Guelph Black Heritage Society's Heritage Hall on Essex Street.


The funding is from the Guelph Community Foundation and Guelph Historical Society.
Read more: Guelph Black Heritage Society raising money for #ChangeStartsNow campaign
The grant will support a key pillar in the heritage society's campaign, which is the development of a booklet on Black history in Guelph and Wellington County.
Another aspect of the campaign is a list of 100 educational resources, such as books and movies, that are curated by volunteers for those seeking factual information on Black history and issues.
It also includes online educational and cultural events and a directory of Black-owned and operated businesses in Guelph, Wellington County and Waterloo Region.
There are also plans for Heritage Hall, the former British Methodist Episcopal Church on Essex
…
Read More
– Ionis-authored research also recognized with Paper of the Year honor
CARLSBAD, Calif., Oct. 1, 2020 /PRNewswire/ — Ionis Pharmaceuticals, Inc. (NASDAQ: IONS), the leader in antisense therapeutics, announced today that Frank Bennett, Ph.D., Ionis' executive vice president and chief scientific officer, has been awarded the 2020 Lifetime Achievement Award by the Oligonucleotide Therapeutics Society (OTS). Dr. Bennett was recognized by the OTS Award Committee for his important contributions to basic science and for being instrumental in the development of antisense oligonucleotide drugs that modulate splicing to correct severe genetic disease.
A founding member of Ionis, Dr. Bennett is responsible for continuing to advance antisense technology and expanding Ionis' drug discovery platform. He is also the franchise leader for neurological programs at Ionis. Dr. Bennett is a co-recipient of the 2019 Breakthrough Prize in Life Sciences for his contributions to the discovery and development of
…
Read More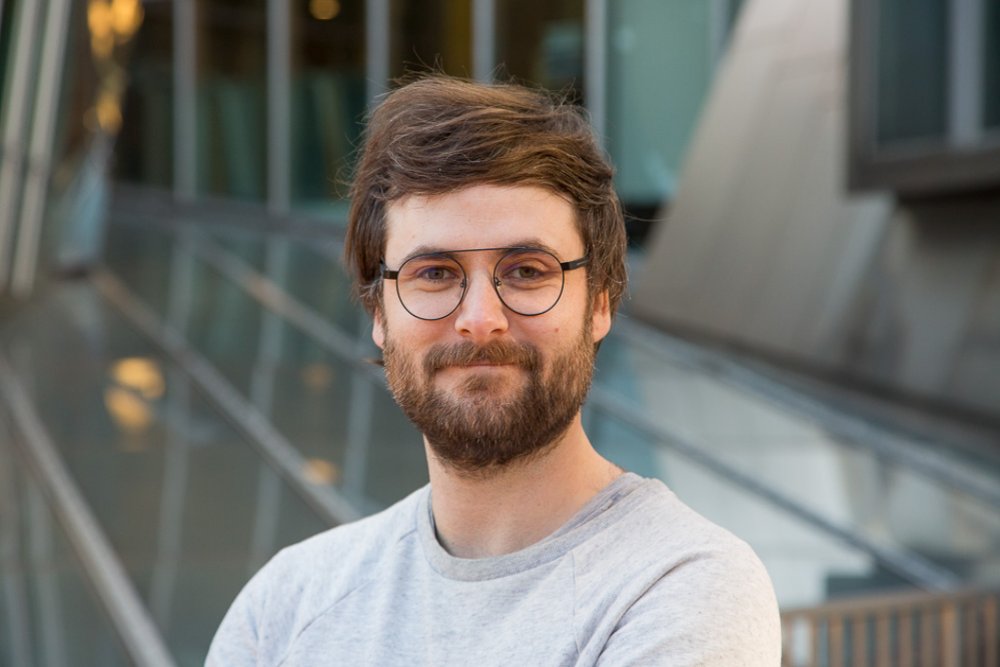 Milo Phillips-Brown, a postdoc in the ethics of technology in MIT Philosophy, was recently named the inaugural recipient of the MAC3 Society and Ethics in Computing Research Award, which provides support to promising PhD candidates or postdocs conducting interdisciplinary research on the societal and ethical dimensions of computing.
Phillips-Brown is being recognized for his work teaching responsible engineering practices to computer scientists. At MIT, he teaches two courses, 24.131 (Ethics of Technology) and 24.133 (Experiential Ethics), and has been an active participant in the activities of the Social and Ethical Responsibilities of Computing (SERC), a new cross-cutting area in the MIT Stephen A. Schwarzman College of Computing that aims to weave social, ethical, and policy considerations into the teaching, research, and implementation of computing.
"We are delighted to be able to work so closely with Milo," says Julie Shah, an associate professor in the Department of Aeronautics and Astronautics, who
…
Read More
The Qatari government has given a QR7.3 billion ($2 billion) bailout to its loss-making airline Qatar Airways, to help it through the multiple crises it is facing.
It matches the $2 billion in support the Dubai government gave to rival airline Emirates last month to help it weather the shutdown of most international air travel as a result of the coronavirus pandemic.
Like Emirates, Qatar Airways has had to deal with the healthcare emergency, but on top of that it has faced the ongoing boycott of its home country by neighbours Bahrain, Egypt, Saudi Arabia and the UAE since June 2017. That has forced the airline to cut lucrative routes to those countries
…
Read More
Go to top