SAN DIEGO (KGTV) — A mountain lion cub rescued by the San Diego Humane Society continues to make great strides in its recovery.
The Humane Society said the female cub was found by Vista Grande Fire Station firefighters near a road in Idyllwild on Sept. 2. The cub was "semiconscious, extremely emaciated, dehydrated, weak and had tremors," according to the Humane Society.
Under the care of the Humane Society's Project Wildlife, the cub — believed to be 14 weeks old — has made significant health progress.
Through daily fluid therapy, medications, and proper meals, the Humane Society said the cub has increased her weight from 10.5 pounds to 22 pounds.
Christine Barton, the director of Operations & Wildlife Rehabilitation at the Humane Society's Ramona campus, said, "With each passing day, she becomes more active and responsive and, though she still has some medical issues to overcome from being in such
…
Read More
WASHINGTON, Oct. 7, 2020 — On behalf of the American Chemical Society (ACS), President Luis Echegoyen, Ph.D., congratulates today's winners of the Nobel Prize in Chemistry: Emmanuelle Charpentier, Ph.D., Max Planck Unit for the Science of Pathogens (Germany) and Jennifer A. Doudna, Ph.D., University of California, Berkeley. The Royal Swedish Academy of Sciences awarded the prize "for the development of a method for genome editing."
"Today's Nobel Prize in Chemistry recognizes CRISPR-Cas9, a super-selective and precise gene-editing tool where chemistry plays an incredibly important role," says Echegoyen. "This discovery, originally derived from a natural defense mechanism in bacteria against viruses, will have untold applications in treating and curing genetic diseases and fighting cancer, as well as impacts on agricultural and other areas. The future for this technique is indeed bright and promising."
Doudna has been a member of ACS for 21 years. She has published articles in some of ACS'
…
Read More
Let's consider how the world has changed in the past six months. Physical distancing is now the rule and working from home has emerged as a secular post-COVID-19 theme. A lot of people don't seem to want to hear this, but it is true nonetheless. Not everyone prefers to work from home but a whole lot more do, now they have a taste of what it is like not to have to spend money on business attire, or spend two hours every day fighting traffic.
KPMG just conducted a U.S. study and found that miles driven are down 10 per cent year over year and that includes all the road vacations that have replaced travel by air. The University of Chicago weighed in with a survey of its own and estimated that Americans working from home are saving 60 million commuter hours each workday. The poll also shows that 52.3
…
Read More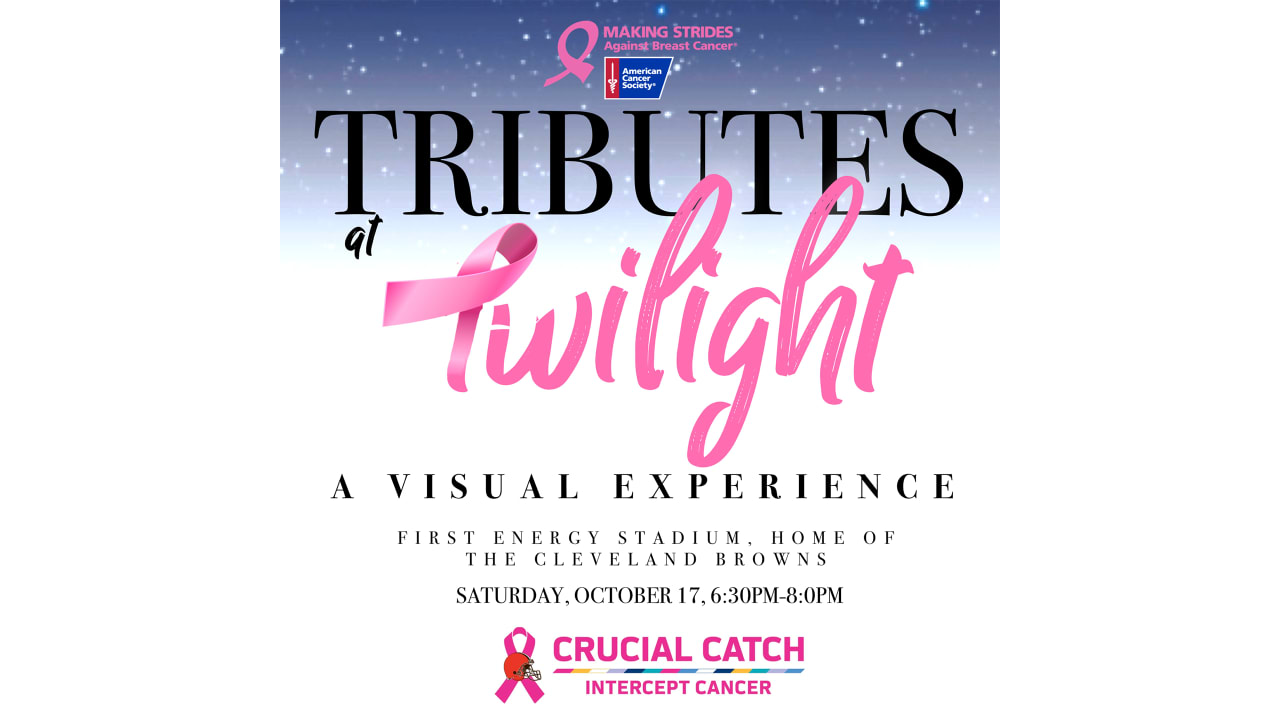 As part of the Browns' Crucial Catch initiative, join us for this year's Making Strides Against Breast Cancer: Tributes at Twilight, a visual driving experience in partnership with the American Cancer Society.
Cancer doesn't stop, so neither do we. Although we are living in a COVID world, it's still important that we continue the fight against cancer every day. The impact of the pandemic will reduce the ability to fund cancer research by 50% in 2020 – the Society's lowest investment this century if current trends continue. That is why on Saturday, October 17th from 6:30 – 8:00p.m. at FirstEnergy stadium, the Browns and the American Cancer Society will be hosting a drive-thru Tribute Garden where we will be showcasing Luminaria bags while staying socially distant and safe in cars. The experience will begin at the University Hospital Gate and feature a large, light-up pink chair.
…
Read More
2020 is the year the world's attention turned to the deep fractures of our economic, political, educational, and healthcare systems. The year when status quo solutions were no longer good enough. For all the declarations of being "in this together," the dual pandemics of Covid-19 and systemic racism have revealed how low-income communities and people of color are disproportionately left out, let down, and punished by our systems.
The death of George Floyd, representing too many Black lives lost, has reignited the movement for racial justice around the world, demonstrating that we urgently need to build a society that is not only inclusive, but also just. The immediate call to reform police and criminal-justice systems in America is a significant step, but the change must go further. We must upend how capital flows, how hospitals care for patients, how institutions lend, how employers hire and care for workers, and how
…
Read More
The Herald
Ranga Mataire Writing Black
Since the 1980s, the world has seen a resurgence of global neo-liberal agendas dominating the intellectual, political and moral space and vision.
One of the tragic consequences of this unrestrained liberal domination is the notion of a failed state and assumption of unblemished image of success of civil society or non-governmental organisations.
There is a fervent attempt to demote the State in favour of civil society that is often presented as the moral compass that should be financially supported vigorously.
Many must be aware of the boisterous declarations by some Western embassies that they are the biggest donors in Zimbabwe.
However, much of this financial support is not channelled to the State, but goes to civil society and non-governmental organisations. The State is often viewed as morally inept.
A regrettable fact that has emerged over the years is that the discourse of a "failed
…
Read More
Private schools are the victims of "stereotyping and prejudice" and people should stop treating them as "society's villains", a top headteacher will argue on Monday.
Sally-Anne Huang, the first female high master of St Paul's School in London, will also say that private schools can help "heal" UK society from the "multiple wounds" it has sustained from Covid-19.
Ms Huang has just taken over as chair of the Headmasters' and Headmistresses' Conference, a group of 296 elite private schools.
The i newsletter
latest news and analysis
In a speech to kick off the HMC annual conference she will claim that private schools have been unfairly vilified.
'Society's villains'
"As head of an HMC school I expect to be cast as one of society's villains," she will say.
"I still get out of bed every day to improve things for young people and, increasingly in recent years, not just the young
…
Read More
PORTSMOUTH — Only days remain to bid on more than 100 works by regional artists in the Portsmouth Historical Society's "Jubilee" art auction that ends at 6 p.m. Oct. 7.
Half the proceeds support Discover Portsmouth and the John Paul Jones House Museum while the other half goes directly to 50 contributing artists. The online auction offers an array of paintings, many featuring familiar scenes, plus handcrafted jewelry, sculpture, woodworking and clothing.
"Buyers take home a treasured original new work of art while supporting its talented creator and the city's 100-year-old historical society," said PHS Executive Director Brian LeMay.
This year's fall auction lets bidders join via a special online platform. BiddingForGood is a charitable e-commerce company designed to connect fundraisers, cause-conscious shoppers and socially responsible businesses. A desktop or laptop computer is the best way to view the gallery.
Art lovers can reach the auction via the PHS website,
…
Read More
ATLANTA, Oct. 1, 2020 /PRNewswire/ — Amanda Yancey has been named the executive director of The Leukemia & Lymphoma Society's (LLS) Georgia – South Carolina Region, as of September 1, 2020. Yancey takes the position from Piper Medcalf, who was promoted to a national position within the organization.
Yancey joined LLS in 2011 with LLS's Team In Training campaign. Since then, she has held leadership positions in Advancement and in the fundraising campaigns Man & Woman of the Year and Students of the Year. Most recently, she was a senior director, responsible for overseeing three large campaigns in Atlanta with a combined revenue goal of over $4,000,000. During her tenure as senior director, Yancey had exceptional success growing corporate and volunteer leadership and experienced exponential revenue growth in all areas. In particular, she grew the Atlanta Man & Woman of the Year campaign from $1,100,000 to
…
Read More
ATLANTA, Oct. 1, 2020 /PRNewswire/ — Amanda Yancey has been named the executive director of The Leukemia & Lymphoma Society's (LLS) Georgia – South Carolina Region, as of September 1, 2020. Yancey takes the position from Piper Medcalf, who was promoted to a national position within the organization.
Yancey joined LLS in 2011 with LLS's Team In Training campaign. Since then, she has held leadership positions in Advancement and in the fundraising campaigns Man & Woman of the Year and Students of the Year. Most recently, she was a senior director, responsible for overseeing three large campaigns in Atlanta with a combined revenue goal of over $4,000,000. During her tenure as senior director, Yancey had exceptional success growing corporate and volunteer leadership and experienced exponential revenue growth in all areas. In particular, she grew the Atlanta Man & Woman of the Year campaign from $1,100,000 to
…
Read More
Go to top