Malaysian opposition leader Anwar Ibrahim on Tuesday met the country's king and said he submitted documents proving his "strong and convincing" parliamentary support to form government and that Prime Minister Muhyiddin Yassin should resign.
Anwar said he had the support of over 120 lawmakers in the 222-strong parliament, disclosing his numbers for the first time since his announcement last month he had secured a majority from federal lawmakers to form a new government.
Anwar said it was now up to King Al-Sultan Abdullah to decide on the next step, but added Muhyiddin had lost his majority and should resign.
"I urge all parties to give space to the king to carry out his responsibilities under the constitution, and to go through the documents and call party leaders to confirm and receive their input
…
Read More
A group of more than 50 law professors sent a letter Friday to the Senate Judiciary Committee expressing their support for Judge Amy Coney Barrett's confirmation to the Supreme Court and calling her qualifications "stellar."
In a letter to Chairman Lindsey Graham and ranking Democratic member Dianne Feinstein, obtained by National Review, the 53 law signatories identified themselves as a "diverse" group representing many fields and perspectives and holding "widely differing views about the President and the timing of this nomination."
"We share the belief, however, that Judge Barrett is exceptionally well qualified to serve on the Supreme Court of the United States, and we urge the Senate to confirm her as an Associate Justice," the group wrote.
President Trump nominated Barrett last month to fill the Supreme Court seat of the late Justice Ruth Bader Ginsburg, kicking off what is expected to be a tempestuous Senate confirmation battle less
…
Read More
General News of Monday, 12 October 2020
Source: GNA
2020-10-12
Rev. Francisca Duncan Williams
Rev. Francisca Duncan Williams has urged persons who have influence on the society to focus on improving the well being of the less privileged in the society.
She said this during the maiden Humanitarian Awards Ghana, which celebrates and honours individuals who have positively impacted on the society in various endeavours.
Mama Francisca who was the Guest of Honour urged change-makers to make the nation a better place for all.
She urged Ghanaians to maintain the peace the country was currently enjoying during and after the December 7 polls.
Mr. Wisdom Dordoe, Programme Director of Humanitarian Awards Ghana, in his remarks said the awards ceremony aimed at identifying, recognizing and awarding extraordinary individuals and groups who were positively impacting the lives of people, nature and society in Ghana and beyond.
"We believe that putting the spotlight
…
Read More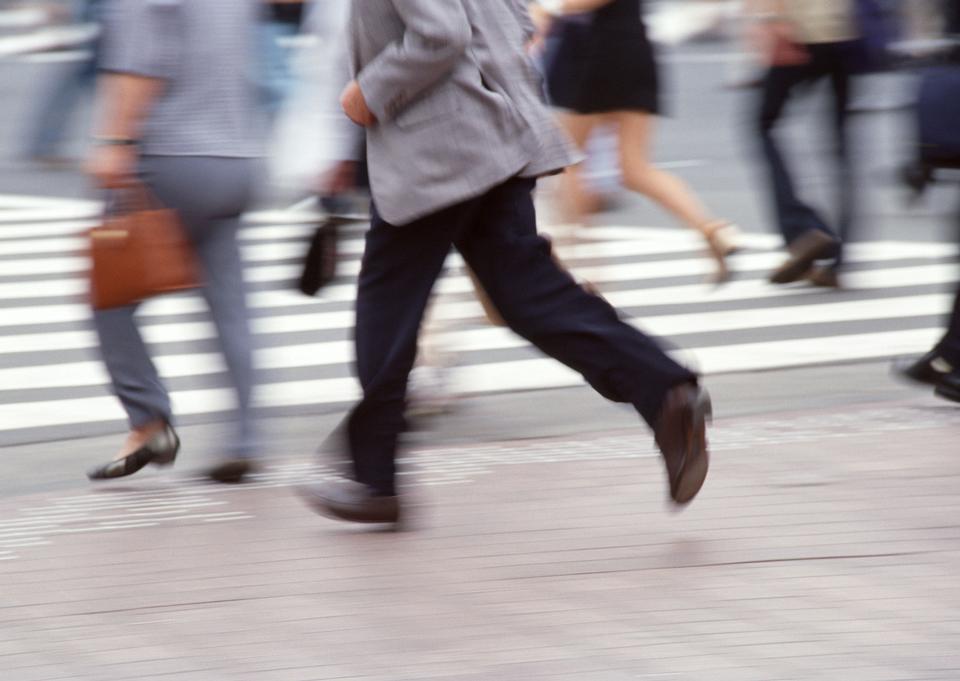 The purpose of this article is to examine the USA sectoral flows for September 2020 and assess the likely impact on markets as we advance.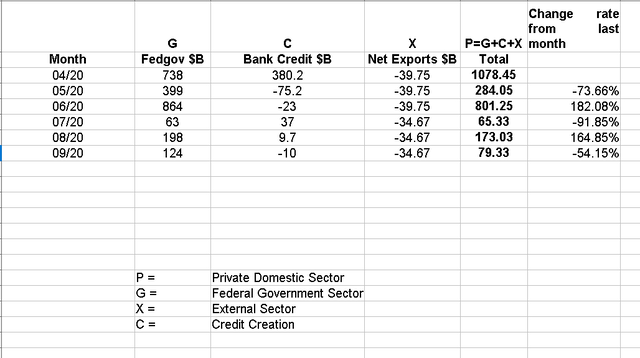 Source: FRED, CBO and author's calculations based thereon
The table above shows the financial balance of financial flows from the USA national accounts since April this year when the Federal Government response to the COVID crisis started.
The flow to the private domestic sector (where the asset markets are) was over fifty percent lower than last month but still positive at over $79B.
Asset markets can be expected to keep climbing as the injection of more money is factored into their prices.
The chart below from the CBO shows the deficit spending path.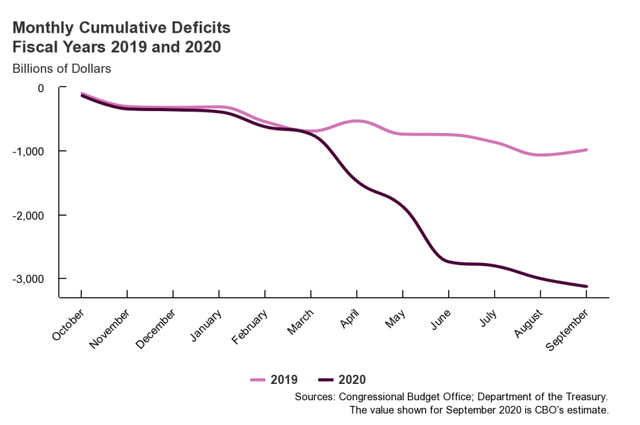 The chart above shows the big difference in deficit spending year over year. The CBO summarising the result for September as follows:

The table below shows that the overall Federal expenditures were
…
Read More
LONDON (AP) — Mayors representing big cities in northern England have slammed the British government's latest wage support package for employees in businesses that may be ordered to close as part of efforts to suppress local coronavirus outbreaks.
In a virtual press briefing Saturday, the opposition Labour leaders of the metropolitan areas around Liverpool, Manchester, Newcastle and Sheffield sounded the alarm about the economic hardship their cities are likely to face.
…
Read More
Chancellor of the Exchequer Rishi Sunak leaves 10 Downing Street after attending a Cabinet meeting on 14 February, 2020.
Barcroft Media
LONDON — The U.K. government has expanded its jobs support program as the country gears up for tighter coronavirus restrictions set to be announced next week.
Finance Minister Rishi Sunak said Friday that firms whose premises have to shut over the winter period as part of local or national restrictions will receive grants to pay the wages of staff who cannot work.
The British government will pay two thirds of employees' salaries to protect their jobs over winter. Cash grants to businesses in England which are required to close will increase to up to £3,000 ($3,893) per month.
The new program will come into effect on Nov. 1 and will last for six months. The BBC reported that the expansion could cost hundreds of millions of pounds per month.
…
Read More
LONDON (AP) — The British government is on Friday set to announce further support for firms to retain staff in the coming months if they are forced to close as a result of the imposition of further lockdown restrictions.
With the government expected to tighten restrictions over the coming days to deal with a sharp spike in new coronavirus infections, there are growing concerns that the economy will suffer during the winter and that hundreds of thousands of jobs may be lost.
…
Read More
The current COVID-19 pandemic represents a great social and economic disruption to all human
beings, affecting disproportionally women and girls due to widespread pre-existing discrimination and
inequalities
. Every crisis creates inequalities and aggravates older ones, such as the inequalities
existing against women and girls. It is necessary for states to step up their efforts and increase the
measures to protect women and girls victims of violence.
Home is not always a safe place for women and their children, and they are especially at-risk during
lockdown, as they cannot escape their abusers. A grave concern is that social distancing and
confinement rules imposed by national governments have triggered additional risks of domestic
violence.
The present guidelines are to support the national government and service providers in Albania, Bosnia
and Herzegovina, Kosovo, Montenegro, North Macedonia, Serbia and Turkey to better respond to the
needs of women and their children, girls' victims
…
Read More
The pandemic has made it nearly impossible for people to gather and grieve collectively after losing a loved one to COVID-19 and the Vancouver Hospice Society (VHS) wants to help.
The non-profit society has expanded its grief counselling services to include sessions specifically for those mourning someone who died as a result of the disease. The online group sessions are free, will run once a week for four weeks, and are facilitated by a trained clinical counsellor.
Executive director Sarah Cobb says the sessions allow people to come together and share their pain at a time when people are socially isolated and unable to start the grieving process at a funeral or mourning ceremony.
"Without these rituals, it can stifle our ability to process our grief… and can lead to more complex feelings down the road," said Cobb on CBC's The Early Edition on Wednesday.
Public reached out for
…
Read More
By Sam Holmes and Colin Packham
SYDNEY (Reuters) – Australia pledged billions in tax cuts and measures to boost jobs on Tuesday to help pull the economy out of its historic COVID-19 slump in a budget that tips the country into its deepest deficit on record.
Prime Minister Scott Morrison's conservative government has unleashed A$300 billion in emergency stimulus to prop up growth this year, having seen the coronavirus derail a previous promise to return the budget to surplus.
Treasurer Josh Frydenberg on Tuesday announced A$17.8 billion in personal tax cuts and A$5.2 billion in new programmes to boost employment in a recovery plan aimed at creating one million new jobs over the next four years.
Those measures are forecast to push the budget deficit out to a record A$213.7 billion, or 11% of gross domestic product, for the fiscal year ending June 30, 2021.
"There is no economic recovery
…
Read More
Go to top